Spanish Police Storm Polling Stations to Block Catalan Vote
By and
Officers remove ballot boxes from locations in Barcelona

Catalan government says most polling stations are still open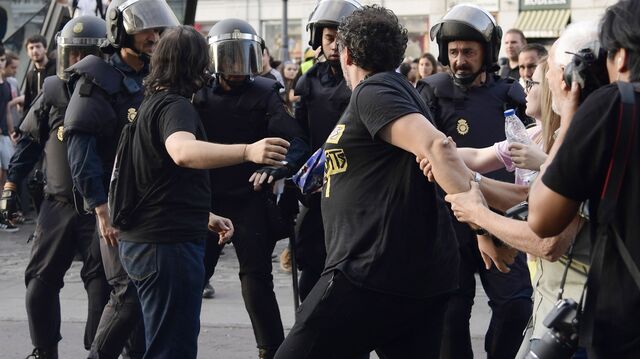 Spanish police in riot gear smashed in the doors of polling stations and dragged protesters away by the hair, beating some with batons and firing rubber bullets at others on Sunday as they tried to shut down an illegal referendum on independence in Catalonia.
Despite the police brutality against largely peaceful demonstrations, voting began in many locations across northeast Spain at 9 a.m. The Catalan government said 73 percent of polling stations were open. Spain's representative in the region, Enric Millo, said the vote had been "dismantled."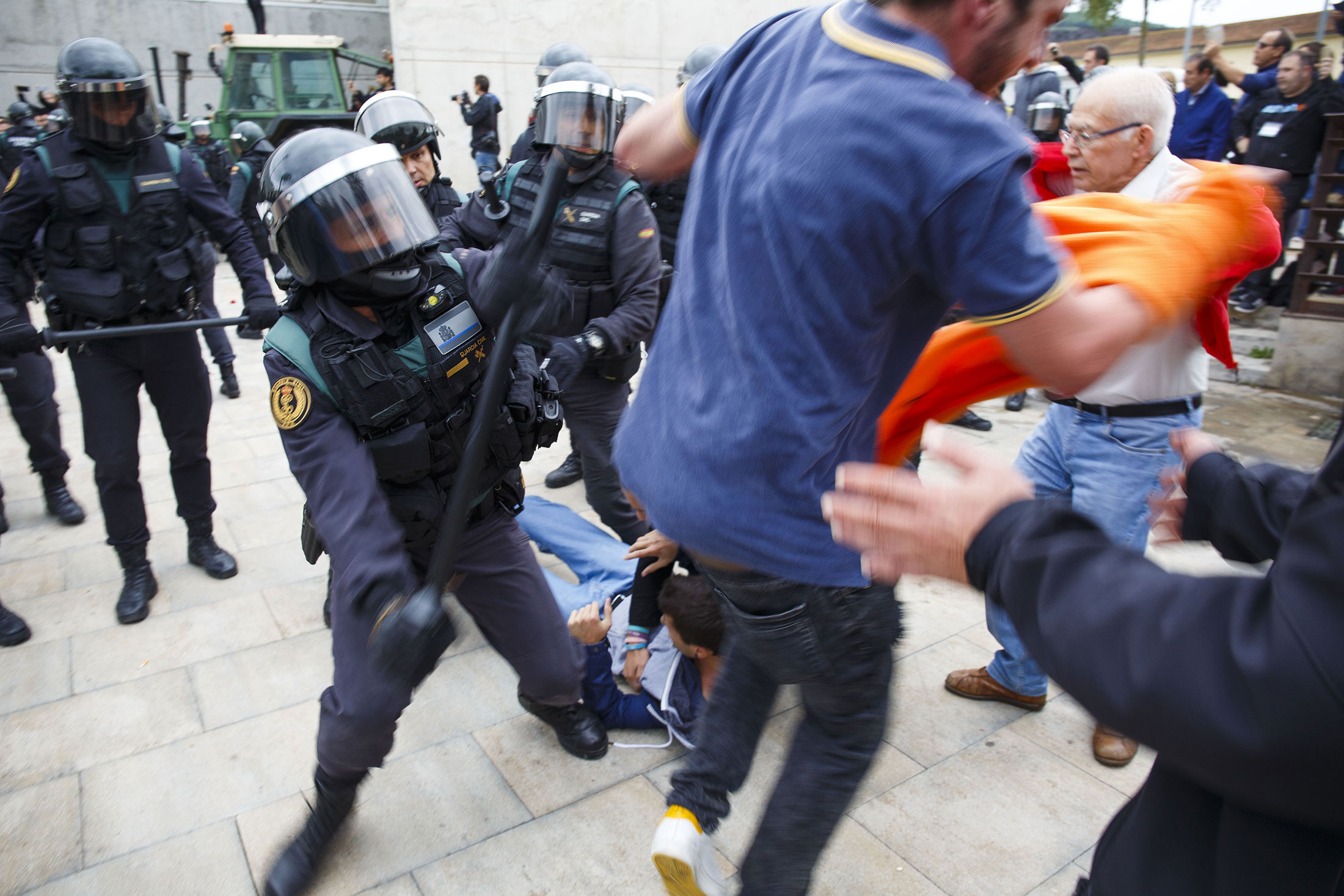 Catalan President Carles Puigdemont said the crackdown had been an "unjustified, excessive and irresponsible use of violence."
"It didn't end Catalans' desire to vote and decide freely about their future, but it has helped to answer all the questions we had to address today," he said at a voting site near Girona that had been raided by the Civil Guard. "Today, the Spanish state lost."
Spanish Prime Minister Mariano Rajoy deployed thousands of police from outside Catalonia ahead of the vote to maintain public order, with the crisis already roiling his minority government.
The prime minister withdrew his budget from parliament last week after his Basque Nationalist allies signaled they would shoot down the bill in protest at his handling of Catalan demands. His job isn't under any imminent threat, but his authority is compromised by his inability to legislate and some of his European partners may be shocked by the images from Barcelona today.
It's unclear when or, indeed, if a result will be announced and no exit polls are planned, though those who do vote are likely to be overwhelmingly from the pro-independence camp. A non-binding vote in 2014, also held in defiance of the Spanish courts, saw 80 percent back a split from Spain on turnout of about 30 percent. In the most recent Catalan government poll in July, 35 percent of respondents said the region should become independent.
Catalan History of Grievance Leaves a Divided Spain: QuickTake
One Catalan officer was arrested during the crackdown, Sebastian Hernandez, a spokesman for the Spanish police officers' union, said. The Catalan policeman started kicking a National Police vehicle while officers were removing ballot boxes from a polling station in Barcelona.
"There has been no referendum nor the appearance of one," Spanish Deputy Prime Minister Soraya Saenz de Santamaria said in a televised statement from Madrid. "The professionalism of the security services has had to make up for the irresponsibility of the regional government."
Rajoy is facing Spain's biggest constitutional crisis since the political settlement that followed the death of dictator Francisco Franco in 1975. That gave regional administrations control of areas such as health, education and, in Catalonia's case, the police, within a centralized system for collecting and distributing tax revenue. Many Catalans complain they get a raw deal from that system.
Yet they have no viable path to independence. Rajoy, backed up by the courts, says a referendum is unconstitutional, and any attempt to change the constitution would be blocked by Rajoy's People's Party.
'State of Emergency'
Sunday's crackdown began at about 8:45 a.m. when police in riot gear arrived at a site in downtown Barcelona and ordered activists to leave. Surrounded by an angry crowd chanting, "Out of the way, we will vote," officers blocked access to the public school building and pushed people away from the doors while Catalan police watched from the sidelines. The police then broke into the building and removed the ballot boxes. Prosecutors will take action against the Catalan police over their refusal to stop the vote, El Pais reported.
One gray-haired lady had blood running down her face as she emerged from the melee, while Catalan television showed images of riot police pushing protesters down stairs and wrestling with ballot organizers and demonstrators. Volunteers and ambulance attendants tended to the injured. The Catalan government said 337 people have been hurt.
"A cowardly prime minister has flooded our city with police," Mayor Ada Colau said, calling on Rajoy to resign. "Barcelona, city of peace. Do not be afraid."
Interior Minister Juan Ignacio Zoido said in an interview on La Sexta television that only one of 70 police operations had involved anti-riot procedures, and insisted that the police action had been "proportionate." He said the Catalan police had requested assistance in writing from the country's other forces.
Trying to Vote
At least three polling stations in the regional capital had been shut down by noon, and one that was open in the Passatge del Pla had at least 200 people queuing to cast their ballots as organizers struggled to keep their computer system online. The crowd applauded each time a voter left the building.
"There are no words to describe what this government has done," said Anna Bonet, a 56-year-old homemaker who'd waited since 6 a.m. to vote for independence. "We're living under a state of emergency."
At least 500 people were waiting in persistent rain to vote at another center on Passeig de Gracia. Organizers were jotting down voters' ID numbers as they tried to keep track of the ballot and asking people to switch off their cell phones because their 3G connections kept failing.
"I'm going home for a nap and then I'm coming back," said 59-year-old Joan Guerrero. "I'm scared the Spanish police will remove the ballot boxes so that the votes don't get counted."
The Civil Guard has managed to shut down the Catalan electoral register, the Interior Ministry said on Twitter, making it impossible to conduct a proper vote.
Soccer Match
Barcelona soccer club has postponed its home game against Las Palmas this afternoon because of the unrest, El Pais newspaper reported. Las Palmas, from the Canary Islands, was planning to play with a Spanish flag stitched to its shirt.
In Girona near the French border, where Puigdemont had been due to vote, Civil Guards in helmets blocked access to the polling booths, dragging off protesters, and then smashed the doors of a sports hall as they searched for ballot boxes. One protester was taken away by first-aid workers on a stretcher. Puigdemont later voted at a different location.
"The National Police and the Civil Guard had to act," Millo said in a televised statement. "We had to do what we didn't want to."
— With assistance by Rodrigo Orihuela, and Charles Penty
Before it's here, it's on the Bloomberg Terminal.
LEARN MORE