Why It's Time to Pay Attention to the Crisis in Catalonia
By
Barcelona's push for divorce threatens Spain's brisk expansion

Rebels playing cat-and-mouse with cops to hold Sunday's vote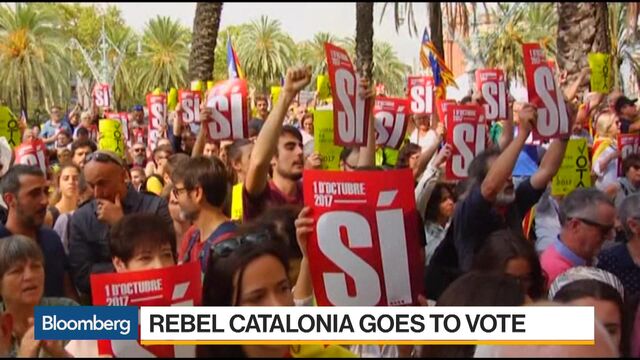 Catalonia's campaign for independence comes to a head on Sunday, when the rebel administration in Barcelona will attempt to hold a referendum on independence in defiance of Spain's Constitutional Court and Prime Minister Mariano Rajoy's government in Madrid.
Investors so far have shrugged off what has become the gravest constitutional crisis to befall Spain since the country returned to democracy after the death of dictator Francisco Franco four decades ago. Spain's benchmark IBEX 35 index has outperformed peers this year while the extra yield that investors demand to hold Spanish bonds instead of German debt is little changed from last September.
It may be time investors started paying more attention, said Angel Talavera, an economist at Oxford Economics in London. While Spain won't recognize the results of the referendum, the push for statehood could eventually hurt the economy, discourage investment and raise questions about Rajoy's ability to govern.
"Money doesn't like uncertainty," said Talavera by phone. "At some point investors will wake up to the realization that there could be a longer-term impact."
Tension continues to build in Barcelona ahead of the vote.
On Thursday, Joaquim Forn, the Catalan government's head of internal affairs, took issue with a judge's order to police to ensure public buildings stay closed on Sunday so that they can't be used as polling stations, saying that public safety was more important.
Meanwhile, La Vanguardia newspaper reported that the regional government is preparing for a week-long strike from Oct. 3 and El Mundo said retailer El Corte Ingles would keep its department stores in Barcelona closed on Sunday.
The IBEX fell as much as 0.3 percent in early trading in Madrid. The yield spread of Spain's 10-year bonds over Germany's was stable at 114.5 basis points.

Here are some reasons why investors should care about Catalonia:
Catalonia is big and so is Spain's debt: 

The 7.5 million Catalans make up 16 percent of Spain's population and account for 20 percent of output, making it the biggest regional economy. Revenue generated by the region helps Madrid make payments on its 1.1 trillion euros of debt. Catalan separatists have floated the prospect of withholding tax revenue from the Spanish treasury.

Catalan crisis causes collateral damage:

Rajoy relies on regional allies including deputies from the Basque PNV party to help his minority government pass legislation -- and they don't like what they're seeing in Catalonia. Rajoy's budget minister was forced to pull plans to present his 2018 spending bill this week because he couldn't guarantee it would pass.

Clash in Catalonia could hurt Spain's economy:

The Bank of Spain reaffirmed its estimate of 3.1 percent economic growth this year as the country extends an expansion that has run for 16 quarters. Even so, the bank's chief economist warned tensions in Catalonia could sap confidence. And anarchists within the separatist movement have considered picketing major manufacturing plants if they feel the vote has been blocked.

Catalexit as well as Brexit?:

As Europe comes to terms with the U.K.'s divorce from the European Union, the bid by Catalonia to exit Spain raises the prospect of more fissures appearing on the continent. Rajoy's government has made clear that a hypothetical Catalan republic would have to be outside both the euro zone and the EU. At the very least, the Catalan issue could become a distraction as leaders try to sketch out a vision to reshape the 28-nation bloc.
And here are some of the latest developments in the run-up to the referendum:
Committed rebellion

Catalonia is pressing ahead with the vote even after Rajoy's government seized 10 million ballots, deployed thousands of police, arrested more than a dozen local officials and took over the region's finances.

Cat-and-Mouse

Referendum organizers say they've stashed ballot boxes in secret locations throughout the coastal region as police raid government buildings and local businesses looking to seize anything related to the vote

Polling stations

A Catalan court ordered police -- including the region's own force -- to keep all public buildings closed on Sunday so they can't be used as polling stations. The Catalan National Assembly, a pro-independence group with 40,000 members, has spent years working out how to quickly alert and mobilize voters to the thousands of improvised polling stations they plan to roll out.

Mixed messages

Catalan President Carles Puigdemont said this week a unilateral declaration of independence isn't on the table and his priority is to ensure the vote takes place. But his head of international affairs, Raul Romeva, told reporters in Brussels on Thursday that Catalonia would declare independence within 48 hours of the final count, La Vanguardia reported.

Mixed results

Catalonia held what it called a non-binding ballot on independence three years ago that was backed by about 80 percent of voters, but less than a third of those eligible turned out.
Before it's here, it's on the Bloomberg Terminal.
LEARN MORE