Vietnam's Economic Growth Surges to Above 7% as Exports Climb
By
Economy expanded 7.46% in third quarter, government reports

Exports rose more than 20% y/y in September and August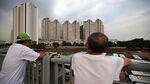 Vietnam's growth accelerated in the third quarter to more than 7 percent, with the economy on track to remain among the world's fastest.
Highlights of GDP report
Gross domestic product rose 7.46 percent in the third quarter from a year earlier, compared with a revised 6.28 percent in the previous three months, the General Statistics Office said in Hanoi on Friday
Bloomberg reported the GDP data late Thursday night 
The economy expanded 6.41 percent in the nine months through September, compared with the 6.1 percent that economists estimated
The Backdrop
The strong growth eases pressure on Vietnam's officials to add more stimulus to meet a target of 6.7 percent economic expansion this year. Exports will remain strong because of new factories opening and rising commodity prices, the Asian Development Bank said in a report this month, as it predicted growth of more than 6 percent this year and next.
The central bank is among a handful of Asian monetary regulators to ease policy this year, unexpectedly cutting its benchmark interest rate for the first time in three years in July. Prime Minister Nguyen Xuan Phuc in August also asked the central bank to take steps to bring down banks' lending rates to help businesses.
Click to read Vietnam's Rate Cut May Spur Growth Amid Credit Worries (2)
In Asia, economies growing more than 6 percent a year include China, India and the Philippines.

Economist View
"While the short-term outlook is pretty decent, risks are building," Gareth Leather, senior Asia economist at Capital Economics Ltd. in London, said in a note. "In particular, we are increasingly concerned by the rapid increase in debt. Credit booms on the scale that Vietnam is experiencing are not sustainable over the long term," he said, citing private sector credit growth of around 20 percent.
Other Details
Manufacturing rose 12.8 percent in the nine months through September from a year earlier
Exports increased 19.8 percent, trade deficit was $442 million in the period
Disbursed foreign direct investment rose 13.4 percent to $12.5 billion, pledged FDI increased 34.3 percent
Consumer prices rose 3.4 percent in September from year earlier. The government aims to cap average price gains at 4 percent this year
— With assistance by Ditas B Lopez
Before it's here, it's on the Bloomberg Terminal.
LEARN MORE