Trump Blasts San Juan Mayor, Who Says He's Politicizing Disaster
By and
Power outages remain widespread as island continues to dig out

President set to view recovery efforts in visit next week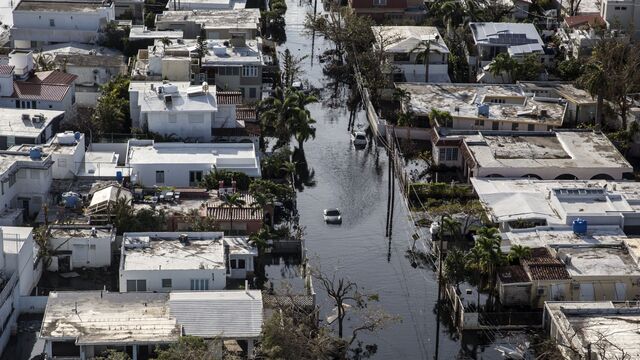 President Donald Trump, under rising criticism for the federal response to hurricane-wrecked Puerto Rico, twice lashed out at San Juan's mayor Saturday for her "poor leadership ability" and said some residents of the U.S. commonwealth "want everything to be done for them."

Mayor Carmen Yulin Cruz, who had begged Trump to intensify relief efforts, said in an interview after the first Twitter attack that the president was turning a humanitarian catastrophe into a self-centered political debate.
"I have only one goal and it is saving lives, and I will do and I will say whatever needs to be said or done to be able to do that," she said outside the city's coliseum. "There should be no distractions. There's no time for anything else. No time for politics. No time for bashing. There's just time for one thing: saving lives."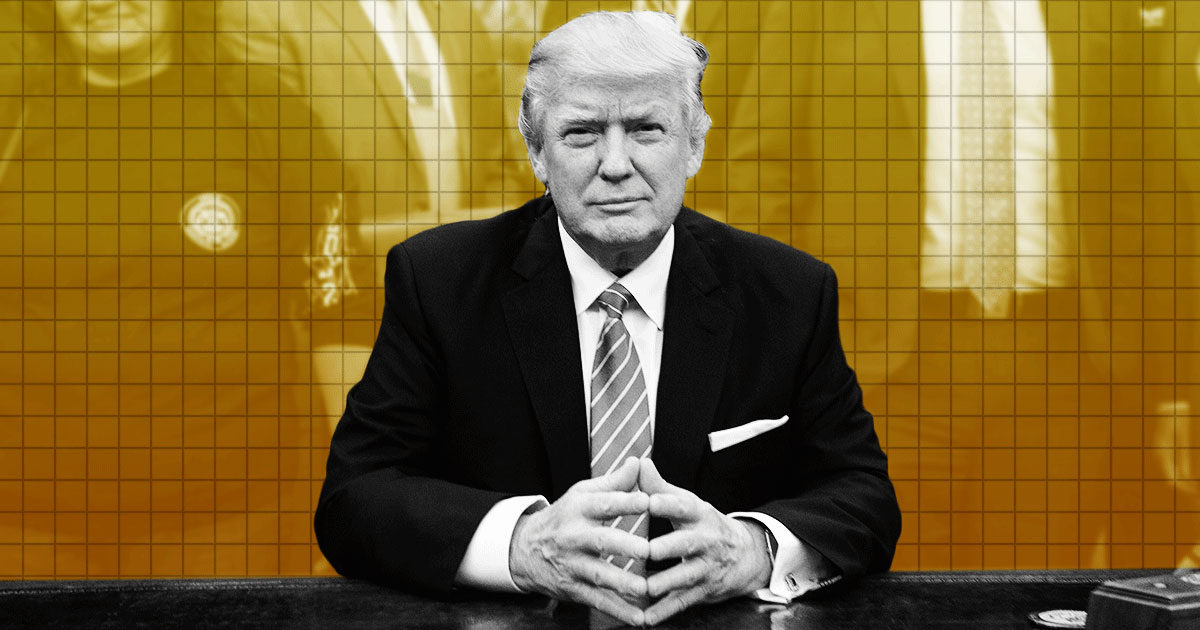 Trump's comments and his angry defense of the administration's response deviated from generations of presidential pronouncements in the wake of catastrophe, which have focused on healing and unity. Leaders of both parties have often faced criticism for emergency relief efforts. Indeed, George W. Bush's response to Hurricane Katrina in 2005 was seen as a turning point in his presidency. But there's little precedent for a chief executive engaging in a war of politicized words with local officials even as the crisis continues.
Conciliatory Tone
By mid-afternoon, after five scheduled briefings on hurricane recovery efforts, Trump returned to Twitter with a conciliatory tone: "We must all be united in offering assistance to everyone suffering in Puerto Rico and elsewhere in the wake of this terrible disaster," he said. He took a fresh dig at Cruz, though, adding that that the results of the recovery efforts "will speak much louder than complaints by San Juan Mayor."
The president also tapped a reliable vein of criticism, saying that "#FakeNews critics are working overtime, but we're getting great marks from the people that truly matter."
Long before Maria struck as a Category 4 hurricane, the U.S. territory was in crisis. It had entered a form of bankruptcy after racking up $74 billion in debt in a Wall Street-enabled borrowing spree. Then, the storm hit on Sept. 20, leaving the island of 3.4 million people without clean water and electricity for basic health-care services and food storage.
How Puerto Rico was submerged under waves of red ink: QuickTake
With many roads impassible, aid is clogging docks in San Juan. And outside the capital, many residents have been forced to fend for themselves. Cruz, 54, whose Popular Democratic Party is affiliated with Democrats on the mainland, has emerged as the voice of the victims. She's said in television interviews that the relief effort lacks intensity and organization as her people suffer.
In his Saturday morning tweets, the Republican president spoke of himself in the third person, saying Cruz, "who was very complimentary only a few days ago, has now been told by the Democrats that you must be nasty to Trump."
"Such poor leadership ability by the Mayor of San Juan, and others in Puerto Rico, who are not able to get their workers to help," Trump told his almost 40 million Twitter followers. "They want everything to be done for them when it should be a community effort."
Trump went on to say that there are "10,000 Federal workers now on Island doing a fantastic job" but that "the Fake News Networks" are "doing their best to take the spirit away from our soldiers and first R's."
Hour of Briefings
The president, who's expected to visit Puerto Rico on Tuesday, is spending the weekend at his Bedminster, New Jersey, golf club.
Trump spoke with FEMA Administrator Brock Long, the current and former governors of Puerto Rico, the commonwealth's representative in Congress, and the governor of the U.S. Virgin Islands.
Vice President Mike Pence earlier received an in-person briefing at FEMA headquarters in Washington. In an interview afterward with a Florida television station, he doubled down on criticism of Cruz, and suggested she, not Trump, was attempting to "play politics."
"It is frustrating, I expect, to millions of Americans to hear rhetoric coming out from some in Puerto Rico, particularly the mayor of San Juan," he said. "While our joint field operation at the convention center in San Juan has more than 1,000 personnel working out in a football field environment, the mayor of San Juan has only visited our joint field operation once," Pence said.
Governor Ricardo Rossello said in Saturday in a news conference that he'd been working on logistics while Trump tweeted. The president, he said, "has shown that whenever we have an ask for this effort they have delivered."
"I do reiterate that the only way for this to work is if we have collaboration. I have committed to collaborating with everyone," Rossello said.
But Cruz said she wasn't alone in concluding that federal action had been inadequate.
Pentagon Efforts
"General Buchanan has said he doesn't have what he needs in Puerto Rico to get the situation under control," she said of Lt. Gen. Jeffrey Buchanan, who's been appointed to lead all military hurricane efforts in Puerto Rico. "Don't take my word for it, take a three-star general's word for it."
In an interview Friday morning with CNN, Buchanan said the Pentagon had 10,000 people helping with hurricane response and that more were being added.
"We're bringing in both Air Force, Navy, and Army medical capabilities in addition to aircraft, more helicopters," he said. "It's not enough, and we're bringing more in."
Trump's administration has come under criticism from some Republicans as well as Democrats in Congress.
Republican Senator Marco Rubio of Florida said this week that the White House hasn't grasped the extent of the devastation in Puerto Rico compared with recent damage in his state, from Hurricane Irma, and in Texas from Hurricane Harvey in August.
Thirty-seven Democrats and one independent in the Senate signed a letter urging Trump to take steps including issuing a broader disaster declaration, naming a White House coordinator for rebuilding, and providing for more help to restore electricity.
More Funding
FEMA spokesman Alejandro de la Campa briefed reporters Saturday, saying that San Juan's airport is "open for business" and that the Department of Health and Human Services has deployed 10 disaster medical assistance teams to the island. Some 10,000 people are still being housed in 157 shelters, de la Campa said.
FEMA has said that about 45 percent of customers in Puerto Rico have access to drinking water, and that almost half the grocery and big box stories have reopened. Still, de la Campa said only 5 percent of the island has had power restored.
White House Homeland Security Adviser Thomas Bossert said the administration will ask Congress in the next two to four weeks for additional funding on top of an existing $7.1 billion appropriation to the Federal Emergency Management Agency that becomes available on Oct. 1. That money covers initial requests for the hurricanes that hit Texas, Louisiana and Florida, as well as Puerto Rico and the U.S. Virgin Islands.
In a speech Friday, Trump said recovery will be costly, and not helped by the fact that Puerto Rico is "an island, surrounded by big water." The territorial government will have to work with federal authorities to determine "how this massive rebuilding effort -- it will be one of the biggest ever -- will be funded and organized, and what we'll do with the tremendous amount of existing debt already on the island," he said.
Long Gas Lines
But his comments early Saturday seemed to complicate an already fraught situation as residents absorbed his words.
While it's true some Puerto Ricans haven't reported to work, they're contending with severe damage to homes, half-mile gas lines to refuel cars, and the myriad challenges of caring for their families in a world without electricity. Awaiting help, many Puerto Ricans have taken initiative to clear their streets with their own machetes and pickup trucks.
Sergeant Samuel Perez of the San Juan Police said he and his colleagues were working 12-hour shifts and dealing with, among other things, break-ins at markets. "People are desperate for food," he said, adding that he and his fellow officers were among them.
Jesus Rosario, 23, was cleaning the streets of San Juan on Saturday morning for a city contractor. He said he reported for work at 5:30 a.m.
"All Puerto Ricans work hard," he said. "We always arrive early to work."
— With assistance by Justin Sink, Arit John, Christopher Flavelle, and Jordyn Holman
Before it's here, it's on the Bloomberg Terminal.
LEARN MORE