Technology
This Tiny Heart Pump Can Be Inserted Nonsurgically
The pencil-thin Procyrion Aortix can help improve blood flow for heart failure patients.
By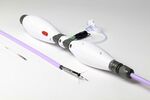 The Procyrion Aortix is a pencil-thin blood pump that can be installed inside the aorta in a 15-minute, nonsurgical procedure. The improved blood flow helps chronic heart failure patients by allowing the heart to rest and by improving kidney function.
Innovators
Reynolds Delgado and Benjamin Hertzog
Chief medical officer and chief executive officer at Procyrion, a 10-employee startup in Houston

① Setup
A cardiologist threads the Aortix pump through a femoral artery into the descending thoracic aorta by means of a catheter. Once the pump is anchored there, the catheter is removed.

② Use
The cardiologist installs a power lead in the patient's belly, where it plugs into a smartphone-size controller that can run as long as eight hours on a lithium ion battery before the battery requires charging.

Origin
Delgado, a cardiologist, came up with the idea for the device in 2005, while treating patients suffering from surgical complications. Hertzog, who has a doctorate in artificial organs from Brown, built the first prototype in 2010.
Funding
Procyrion has raised $13.5 million from investors including the state of Texas.
Patients
The Aortix will best serve people who are too sick to benefit from drug therapy alone but not sick enough to need a more expensive, invasive left ventricular assist device (LVAD).
Early Tests
Hertzog says the company has tested the pump extensively in animals and recently implanted it in its first few human patients.
Next Steps
"This device offers the potential for better quality of life for heart failure patients with renal dysfunction," says Manesh Patel, chief of cardiology at Duke University School of Medicine. The Aortix will be available by 2020, and later models should be able to run on wireless power for as long as six months without replacement, Procyrion says. Ultimately, Delgado says, the device could render LVADs obsolete. 
Before it's here, it's on the Bloomberg Terminal.
LEARN MORE