Politics
The German Far Right Finds Friends Through Facebook
For its parliamentary run, the AfD hired a team of young Americans. They used Facebook for digital ads micro-targeting Germans whose backgrounds made them likely converts.
By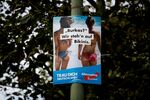 In the weeks leading up to the German election, the anti-immigrant Alternative for Germany party (AfD) knew that it was within striking distance of an historic milestone: becoming the first far-right national political party to win seats in parliament since the end of World War II. To hone its digital-media operation, the party hired a team of young American political operatives known for their work with nationalist candidates. Their firm, Harris Media, based in Austin, has a client list that's included President Trump, Marine Le Pen's National Front party in France, and Israeli Prime Minister Benjamin Netanyahu.
Soon after landing in Berlin in early September, Harris Media's vice president for content production, Joshua Canter, went to a meeting at Facebook Inc.'s gleaming new offices off Potsdamer Platz in the heart of the city. Up to then, the AfD's ad campaign was decidedly low-tech and included catchy posters featuring scantily clad women along with the tag line: "Burkas? We Like Bikinis." Founded in 2013, the AfD is still a work in progress, particularly online. The party had a robust presence of core supporters on social media, but it hadn't yet weaponized the web to draw in new voters. Canter's job was to use digital ads to micro-target Germans whose backgrounds made them likely converts, uncharted territory for the AfD. "They didn't have contacts at Facebook, Twitter, or Google before we came in," says Canter, 26.
The meeting at Facebook helped build those connections. It included the company's Berlin advertising staff and Sean Evins, the head of politics and government for Europe, the Middle East, and Africa, who pitched Canter on using Facebook Live. A key to Canter's strategy was introducing negative campaign themes against German Chancellor Angela Merkel.
A couple weeks later, when the election results came in on Sept. 24, the AfD won 12.6 percent of the vote—more than double the 5 percent needed to claim seats in the Bundestag—making it the third-most-popular party in the country. Merkel won reelection, but it was her party's worst result since 1949. The Russian meddling that German state security had been anticipating apparently never materialized. Instead, the foreign influence came from America.
The day before the election, drinking espresso at a cafe near the Berlin Zoo, Canter explained how he used the AfD's 300,000 Facebook likes to target millions of other Germans who might be receptive to the party's message. "We took that 300,000, and Facebook created a model of them and used their lookalike audiences to find the closest 1 percent of German people to match that audience," he said. That process generated a new group of 310,000 people who were most similar to AfD fans.
In all, Harris Media created seven target groups, according to Canter, including mothers (2.6 million targets), business owners (1.1 million), and working-class people such as union members (6.4 million). It then paid Facebook to send specific ads to those groups that included positions distilled from the party's platform. Mothers, for example, got security themes based around immigration. This is all legal and something that Facebook will do for almost any advertiser who pays for it. In a statement, Facebook said its team "met with all major political parties in Germany to share best-practices information."
The centerpiece of the AfD's digital attack on Merkel is a website featuring a flickering image of the chancellor's face and a counter displaying the number of people killed or injured by terrorists in Germany. The site branded her the "Oath Breaker" for supposedly failing to uphold her oath of office to protect Germans by admitting refugees. The AfD tried to buy Google search-result advertising for the term "Angela Merkel." The plan was that if you searched for her name on Google in Germany, a link to the Oath Breaker site would appear above the link to Merkel's official webpage.
Google initially rejected the search-result and other ads for the site. The reasons kept changing, according to Canter. First Google cited a technical glitch. Then in the reapproval process, it said there were editorial issues. While Canter's search-term gambit made the cut, Google said days later that the remaining ads violated its policy barring hate speech. With time running out, the AfD took the dispute to the German newspaper Der Spiegel, which published the party's allegation that Google was censoring its campaign—and that it would take its ad spending to Facebook instead. In a statement, Google said that "any claim of political bias is baseless" and that every political party listed in Germany can advertise with the company "as long as it follows our policies."
Although Canter gave up on getting the display ads approved, he did keep paying for the Google search term "Angela Merkel," which it linked to the Oath Breaker site. The Merkel campaign could've paid Google more money to displace the ad, but, to Canter's disbelief, it never did. "We've been running search on Merkel's name, calling her 'Oath Breaker,' and pointing to a very ugly website about her," Canter said, laughing. "If it was us, we'd say, 'You need to invest to get that ad bumped down.' "
Whatever effect Harris Media had, it didn't cost much. The ad spending was in the hundreds of thousands of euros, Canter said. That's a paltry sum for Facebook co-founder Mark Zuckerberg, who finds himself in the greatest crisis of his career over the company's role in Russia's meddling with the U.S. election. While the Russian episode involved ads bought under false identities by people with Kremlin ties, the AfD campaign was completely different—the party literally walked through Facebook's front door and introduced itself, a strategy Harris Media intends to repeat. Canter won't say where the company might get work next, but he points out that Italy has an election coming up. "We definitely want more European races," he says. —With Sarah Frier
BOTTOM LINE -
On the eve of the German elections, American political operatives helped a far-right party gain traction through digital advertising on Google and Facebook.
Before it's here, it's on the Bloomberg Terminal.
LEARN MORE