Tanzania Says Newspaper Banned for Three Months for False Quotes
By
Weekly allegedly attributed made-up statements to president

Newspaper is third publication to be shut down since June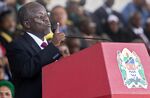 Tanzania banned a Swahili-language newspaper for three months after the weekly allegedly fabricated quotes and attributed them to President John Magufuli, the government said.
The newspaper known as Raia Mwema, which carried the front-page headline "Presidency Will Overwhelm John Magufuli'' in its latest edition, is the third Tanzanian newspaper to be banned since June.
"The government maintains that the newspaper is entitled to fair comment," according to a statement on the government spokesman's Twitter account. "Unfortunately, and with bad intention, the newspaper published fake quotes attributed to President John Pombe Magufuli. The newspaper has been warned before about other mistakes."
While the weekly newspaper apologized for making up quotes, the government will not tolerate misinformation and inflammatory reports, according to the statement.
"I have confirmed that we've been banned for three months," Raia Mwema's Chairman Jenerali Ulimwengu said by phone. "I will be meeting with the team to discuss a way forward."
Last month, Magufuli's administration ordered owners of newspapers, journals, magazines and newsletters to re-register their publications by Oct. 15 or they won't be allowed to operate.
Last week, police arrested an opposition leader, the latest among a series of detentions this year of Tanzanians becoming more vocal in their criticism of Magufuli's administration. In July, more than 50 members of the opposition Chama Cha Demokrasia Na Maendeleo were charged in court for unlawful assembly.
Before it's here, it's on the Bloomberg Terminal.
LEARN MORE