Energy Department announces loan guarantees for Vogtle plant

Southern project has been plagued by delays and cost overruns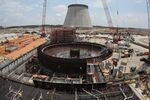 The Trump administration has thrown a lifeline to the last hope for a U.S. nuclear power revival, offering $3.7 billion in additional loan guarantees for Southern Co.'s troubled reactor project in Georgia.
The conditional guarantees announced Friday by the Energy Department come at a critical time for Southern. Georgia regulators are weighing whether to allow the company and its partners to continue building two new reactors at Plant Vogtle after costs soared above $25 billion amid construction delays, caused in part by the bankruptcy of contractor Westinghouse Electric Co. 

"This is great news," said Stan Wise, chairman of the Georgia Public Service Commission. "It gives us an important piece for continuing the project and it's important in lessening the impact on ratepayers."
The project represents the last, best chance for a much-hyped nuclear renaissance that has failed to materialize in the U.S. following Japan's Fukushima accident in 2011 and amid weak wholesale power prices. Scana Corp. this year canceled its plans to build two new reactors in South Carolina after expenses spiraled above $20 billion. Loan guarantees alone, though, won't save the Vogtle expansion: Regulators also want to see a promised payment from Westinghouse parent Toshiba Corp. and federal tax credits for new nuclear generation.
Southern's Georgia Power Co. and its partners constructing the Vogtle plant were already recipients of $8.3 billion in federally-backed loan guarantees, but asked the Trump administration to come to their aid amid ballooning costs and setbacks.
"I believe the future of nuclear energy in the United States is bright and look forward to expanding American leadership in innovative nuclear technologies," Energy Secretary Rick Perry said in a statement announcing the additional aid.
The Energy Department announced conditional loan guarantees of $1.67 billion to Georgia Power, $1.6 billion to Oglethorpe Power Corp. and $415 million to three subsidiaries of Municipal Electric Authority of Georgia. Separately, the department proposed a rule aimed at helping coal and nuclear plants compete in wholesale power markets.
The offered aid comes after President Donald Trump's administration suggested ending the loan guarantee program, which has been under fire from conservative critics since it famously backed a half-billion-dollar guarantee to failed solar-panel maker Solyndra LLC.
Shares Rise
Southern shares rose as much as 1 percent to $49.43 in New York.
Securing the additional money will help Atlanta-based Southern make its case to state regulators, who must weigh Southern's recommendation to continue against concerns from environmental groups and consumer advocates. The loans are one of three "important pieces" that are critical to the review of Southern's proposal, with the others being an extension of federal tax credits for new nuclear units and a $3.7 billion payment guarantee from Westinghouse's parent Toshiba, the PSC's Wise said.
The additional loan guarantees "will help us continue to reduce our financing costs," Paul Bowers, chief executive of Georgia Power, said in a statement. With more than $5 billion in guarantees promised to Southern, the utility owner said its customers will get $500 million in "benefits" for its customers.
Georgia's Public Service Commission will likely give its OK to the Vogtle project if Southern and its partners receive the Toshiba payments, according to Tim Echols, a member of the commission.
"The additional loan guarantee money, monetizing the Toshiba payment, and tax credit extension are music to my ears," Echols said. "Without these it will be difficult to finish our Vogtle reactors and I hope the U.S. Senate knows that."
— With assistance by Brian Eckhouse
Before it's here, it's on the Bloomberg Terminal.
LEARN MORE