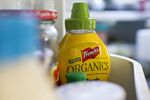 McCormick & Co. just proved why it has the industry's zestiest valuation -- it's one of the only major food companies that's still growing. But management at the spice maker has its work cut out for it to keep up its game.

The Sparks, Maryland-based company has long dominated the market for herbs and spices, and also owns Lawry's marinades and Kitchen Basics chicken stock. In August, McCormick completed a $4.2 billion acquisition -- its largest ever -- for Reckitt Benckiser Group Plc's food business to add French's mustard and Frank's RedHot sauce to its stable of brands. 
This week, McCormick said that even without factoring in the acquisition, it was able to increase consumer sales 4 percent in the third quarter. That's impressive relative to other packaged-food manufacturers, which have only been able to find growth through deals. Everyone from Kraft Heinz Co. to Campbell Soup Co. has seen receding top lines this year, and it won't get any easier as Amazon.com Inc. throws its force behind Whole Foods Market Inc. 
McCormick's biggest customer on the consumer side is Wal-Mart Stores Inc., which is already driving tougher negotiations with some suppliers following the Amazon-Whole Foods merger. And by the way, Whole Foods has its own 365 Everyday Value line of spices and hot sauces. Asked about these factors on Thursday's earnings call, McCormick CEO Lawrence Kurzius said reassuringly that it was able to get all its retail pricing in place and that it's also "leaned in pretty hard on e-commerce." 1

But given the stock's valuation, some slight uneasiness is warranted. As Gadfly's Chris Hughes noted at the time the RB Foods purchase was announced, the deal to gain mustard and hot sauce was done at a price that would make anyone's eyes water -- and for a business with mediocre sales growth and already high profit margins. It makes me wonder how much more McCormick can do with these brands. What's the upside? 
McCormick says it's the chance to expand RB Foods internationally, perhaps something its previous owner didn't have the platform to do. Kurzius said the financial model for the transaction didn't depend on this international growth but that it's something he's optimistic about. Still, in a haphazard survey of my colleagues, it seems that people have pretty strong feelings toward their hot sauces, so it's tough to predict how much growth a brand like Frank's RedHot has in front of it and whether it can catch on in other countries. 
While we wait to see, McCormick is saddled with $5.2 billion of net debt in a rocky retail environment, or almost five times Ebitda. It could take until the end of fiscal 2020 to get that ratio back down to a more manageable level of 3 or lower.

That said, McCormick has proven to be skilled at dealmaking and it's among the more profitable food giants. In fact, it's a company that I've always envisioned Warren Buffett's Berkshire Hathaway Inc. buying given its valuable brands and stable earnings and cash flow. McCormick's leverage is what kept it off my screening for Buffett takeover candidates this time. Perhaps down the road it becomes an option. 
For now, McCormick needs to keep cutting the mustard to prove its deal was worth the price and that its stock deserves such a heated valuation.
Before it's here, it's on the Bloomberg Terminal.
LEARN MORE