Whitney Tilson to Shut Hedge Fund After 'Sustained' Poor Returns
By and
Clients told reporting losses 'to you was making me miserable'

Shutting down 'was a hard decision, but the right one'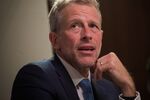 Whitney Tilson is closing his hedge fund, Kase Capital Management, and returning money to investors after struggling with losses.
"Reporting sustained underperformance to you was making me miserable," Tilson said an email Thursday, citing excerpts from a recent letter to investors. "I couldn't in good conscience continue to manage your money unless I had a high degree of confidence that I could turn things around within a reasonable time frame."
Kase Capital has lost about 8 percent this year, with assets shrinking to about $50 million from a peak of $180 million in 2010. Tilson's firm is the latest in a string of hedge fund closures. Pine River Capital Management is shuttering its master fund after investors asked for their money back, and Hugh Hendry blamed a broken macroeconomic model for taking down his Eclectica Fund.
The move "was a hard decision, but the right one," Tilson said. Investors had given him time to try to improve the fund's performance, but he was "unable to do so," he said.
Tilson said he doesn't plan to manage other people's money. He's considering serving on corporate boards, consulting, and mentoring young investors.
The Wall Street Journal reported earlier Thursday the closing of Tilson's fund.
— With assistance by Joshua Fineman
Before it's here, it's on the Bloomberg Terminal.
LEARN MORE