U.K. Prime Minister Defends Uber on Same Day She Attacks Boeing
By
Prime minister takes aim at London mayor, a potential rival

May to BBC: 'What the mayor has done is risked 40,000 jobs'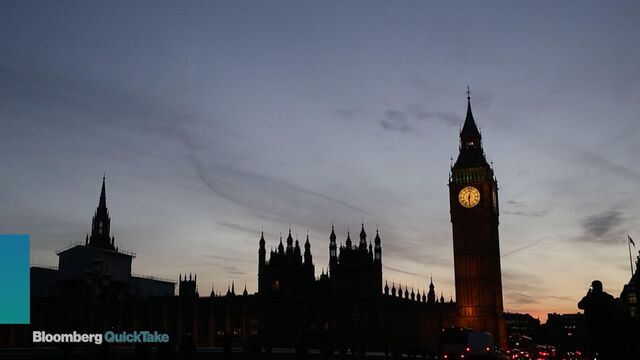 U.K. Prime Minister Theresa May didn't surprise many people when she identified Boeing Co. as a bad company Thursday. More baffling was her choice of Uber Technologies Inc. as a firm to defend. Especially when she'd just given a speech about the importance of good corporate behavior.
Two threads link the companies. The first is jobs: Boeing's case against Bombardier Inc. threatens workers in Belfast, Northern Ireland. "This is not the kind of behavior we expect from a long-term partner, and it undermines that partnership," May said, hinting that contracts might go elsewhere if the company doesn't change its ways.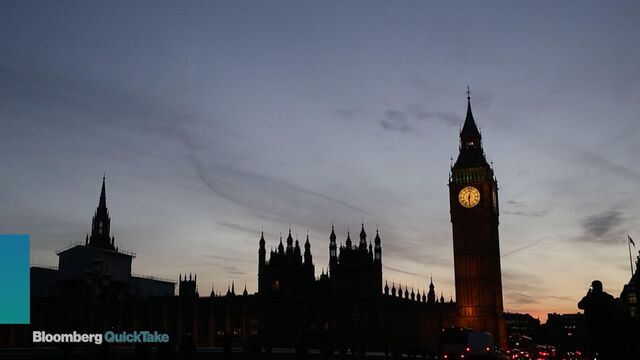 Uber, meanwhile, is a technology company of the sort that Britain needs to attract as bankers quit London ahead of Brexit. On the surface that would explain why, in an interview with the BBC on Thursday, May turned her fire on London Mayor Sadiq Khan, who runs Transport for London, the regulator that this month said it wouldn't renew the car-sharing company's license.
"At a stroke of a pen, what the mayor has done is risked 40,000 jobs,'' May said. "Yes there are safety concerns and issues for Uber to address, but what I want to see is a level playing field between the private firms and our wonderful London taxis. I think a blanket ban is disproportionate.''
The second thread is tied to May's political survival. Boeing also employs 2,200 people in the U.K., and these are jobs May wouldn't want to lose. But it's the location of Bombardier's operation that matters. Northern Ireland has always been a political minefield, but is even more so for May, who depends on lawmakers from the region to stay in power.
Read an explainer about why Uber is getting kicked out London
Meanwhile the prime minister's defense of Uber is, on the face of it, out of character. She has long attacked footloose companies that exploit workers and flout rules. Even her former chief of staff listed Uber as one of those bad firms in a newspaper article Thursday morning, the same day May made a speech arguing that, to protect faith in free markets, governments had to confront "bad examples of corporate governance.''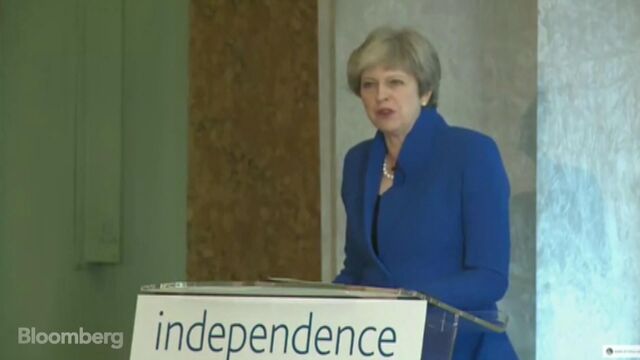 This week Uber's Chief Executive Officer Dara Khosrowshahi published an open letter to Londoners apologizing for his company's behavior and promising to "make things right." So why is the prime minister defending Uber more forcefully than its own CEO?
The clue is in the person May blamed for the decision -- Mayor Khan. He is the opposition Labour Party's most electorally successful figure. She is the Conservative premier who lost a parliamentary majority in an election she did not need to call.
Read our profile of Khan, the man Trump loves to hate
Khan has used his position in City Hall to build a political base for himself, and just like his Tory predecessor, Boris Johnson, he is suspected of having ambitions for May's job. A Times of London poll on Friday showed most Conservatives want May gone by the next election and can stomach her until Brexit is completed in 2019.
During June's election, Khan attacked May for cutting police funding, undermining her efforts to present herself as the face of security in the wake of terror attacks.
May's Conservatives see the Uber decision as a chance to portray Khan as an old-fashioned command-and-control socialist in the pocket of vested interests –- London's traditional black cab drivers. Their hope is that this will win the support of Uber users.
Whether this succeeds depends partly on whether the Uber ban actually goes ahead, or whether the company manages to resolve its differences with TfL. Khosrowshahi's climbdown suggests there is hope that the spat can be resolved.
Either way, it's up to the regulator and the courts, not to May or Khan.
Before it's here, it's on the Bloomberg Terminal.
LEARN MORE