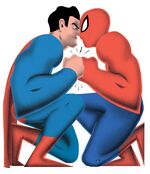 I can still remember what it felt like to pick up my first Marvel comic book, The Amazing Spider-Man Annual #2, in 1965 at a store near my home in the Philadelphia suburbs. I was already a comic fan, devouring issues of Superman and Batman.
This was something different. Inside, writer Stan Lee and artist Steve Ditko wove a tale that put the arachnidan hero in the surrealistic realm of Doctor Strange, a master of the mystic arts. It was thrilling, even a little scary—an intoxicating mix. I have friends who identify as DC kids. They have a weakness for Superman, Batman, and the other less morally complicated American heroes. But on that day, I became a Marvel lifer.
Reed Tucker doesn't take sides in his book Slugfest: Inside the Epic 50-Year Battle Between Marvel and DC (Da Capo Press Inc., $27). Instead, the former feature writer for the New York Post chronicles the companies' longtime feud, which has grown more vitriolic in an age of multibillion-­dollar movie franchises.
In 2002 a Marvel executive compared DC to a porn star who was unable to activate his most crucial organ. At last year's premiere of Suicide Squad, a film about villainous DC characters forced to do good, the director David Ayer snarled, "F--- Marvel!" to cheers. Along the way, the companies have accused each other of antics worthy of the villains they invented, trading charges of plagiarism and engaging in CIA-level paranoia.
The competition actually started in the 1960s. DC, formerly known as National Periodical Publications Inc., had invented the modern superhero genre in 1938 when it published Action Comics #1 featuring Superman, a red-caped visitor from the planet Krypton who possessed godlike strength. Before long, Tucker notes, DC was selling 1.3 million copies of Action Comics a year. In 1939, Batman materialized, in the company's Detective Comics #27. With the public embracing these gaudy icons, they became the subjects of movie serials in the 1940s.

What happened two decades later is a familiar disruption trope. DC was the successful company reluctant to risk jeopardizing its brands. Marvel, its smaller rival, desperately needed to innovate, or it would go out of business. Marvel editor Lee, a frustrated novelist, started publishing comics with costumed heroes wracked with Dostoyevskian self-doubt (the Fantastic Four and X-Men among them). They were characters more in step with the rebellious times than DC's emotionally detached leading men.
Lee also hired artists such as Ditko and the extraordinary Jack Kirby and promoted them with the same verve that he did with his fictitious stars. He was a master of creating community among his readers, too, encouraging them to join the whimsically titled fan club the Merry Marvel Marching Society while taking shots at DC, which he called "Brand-Echh," on the editorial pages of his books.
Each successive decade changed the storyline. During the '60s, Tucker reports, DC made $100 million a year; Marvel managed only about $35 million. By the early '70s, Marvel had eclipsed its rival in comic sales, and it has stayed in first place since. In the '80s, DC created the ­graphic-novel business in the U.S. with titles such as Watchmen, a series with literary ambitions.
Then came the movies. Frank Miller's reinvention of Batman as a grizzled vigilante in the 1986 comic-book miniseries The Dark Knight Returns inspired director Tim Burton's film version, which grossed more than $100 million in 1989. But such theatrical dominance was transient. Marvel, which declared bankruptcy in 1996 and had already sold the X-Men film rights to Twentieth Century Fox Film Corp. for a mere $1.5 million, eventually created its own Hollywood studio and began pumping out remarkably lucrative films, starting with Iron Man in 2008. (Walt Disney Co. would go on to buy Marvel for $4 billion in 2009.) Tucker estimates that Marvel's movies have made $8.9 billion and DC's have made $4 billion.
Tucker is no poet of the superhero world. In Slugfest, minds are "blown," gigs are "cushy," thunder is "stolen," and the rich are "filthy." There's also lots of numbing fanboy trivia: Did Marvel steal the idea for the X-Men from DC's forgotten Doom Patrol, or was DC imitating Marvel? Does anyone but me care?
What's really missing, though, is a passion for comics and a sense of the wonder they can evoke at their best. Tucker says he doesn't bother with comics from either DC or Marvel these days. He'd rather read non-superhero titles like The Walking Dead, an independent publication. More thoughtful analysis about why these companies still resonate would have helped.
I came across Ditko's Spider-Man again in 2007, on the wall of the Jewish Museum in New York as part of a show called Masters of American Comics. It was the cover of one of the last Spider-Man issues he'd drawn, No. 33, from 1966. The cover line was "The Final Chapter!" and Spider-Man is trapped under machinery in an abandoned factory. He escapes, of course, but only after overcoming his self-doubt. The image moved me like it did when I first saw it. It also reminded me why I had to take a side.
Before it's here, it's on the Bloomberg Terminal.
LEARN MORE