Putin, Erdogan Agree to Coordinate Steps on Syria Zones
By and
Meeting follows agreement on de-escalation zone in Idlib

Russian, Turkish leaders agree to improve energy cooperation
Russian President Vladimir Putin and Turkish counterpart Recep Tayyip Erdogan agreed to take coordinated steps to set up and monitor a combat-free zone in Syria, while reaffirming a commitment to build a new gas pipeline and Turkey's first nuclear power plant.
Putin's visit comes two weeks after Russia, Turkey and Iran agreed to establish a de-escalation zone in the Syrian province of Idlib -- currently largely controlled by Islamic militants -- and to monitor violations by opposition groups or forces loyal to Syrian President Bashar al-Assad.
Turkish Foreign Minister Mevlut Cavusoglu complained Monday that Russian bombings had killed civilians and could amount to a breach of the agreement. On Thursday, Putin and Erdogan addressed Turkey's concerns over recent clashes in the area, said a senior Russian, speaking on condition of anonymity, adding that preserving the cease-fire depends on the elimination of al-Nusra-linked militants in Idlib.
"We reconfirm readiness to implement final agreements reached in mid-September in Astana about four de-escalation zones, including the biggest one -- in Idlib," Putin told a joint news conference with Erdogan, whom he called "our friend," in Ankara. "Despite difficulties we have achieved positive result. These agreements are our common extremely important success."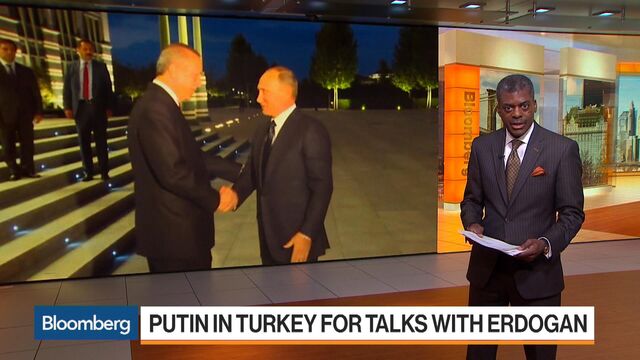 The meeting is a sign of the closer ties between Putin and Erdogan. Both leaders reaffirmed commitment to build the so-called Turkish Stream gas pipeline and the construction of the Akkuyu nuclear power plant on Turkey's Mediterranean coast. Turkey may give Rosatom strategic investor status in Akkuyu nuclear plant project, Kremlin spokesman Dmitry Peskov told reporters.
"Economy and trade are backbone of relations between Turkey and Russia," Erdogan said, referring to Putin as "my valuable friend," as he stressed the importance of energy cooperation between the two countries.
Russian gas exports to Turkey are expected to reach more than 28 billion cubic meters in 2017, Gazprom CEO Alexey Miller said in Ankara, adding that 300 kilometers of the Turkish Stream gas pipeline has already been built.
Turkey's desire to purchase the Russian S-400 missile defense system has riled its fellow NATO members, especially the U.S., because it is not compatible with the rest of the military alliance.
Read more: Kurds Vote on Statehood and Neighbors Say No Way: QuickTake Q&A
Erdogan, meanwhile, warned Iraqi Kurds, who voted overwhelmingly this week in favor of independence in defiance of their neighbors as well as the government in Baghdad, against making more "grave mistakes."
Turkey said it regarded the move as a direct threat to its own national security, over fears that the vote could encourage separatist Kurdish militants at home. "We agree on the territorial integrity of Iraq, Syria," Erdogan said after his meeting with Putin.
The Turkish Army has been conducting exercises at the border with Iraq's semi-autonomous Kurdistan Regional Government for more than 10 days to intimidate the Iraqi Kurds.
"We will never allow the formation of artificial states in Syria or Iraq," Turkey's Prime Minister Binali Yildirim said in televised remarks in central Anatolian city of Corum on Thursday, warning Kurds in Iraq and Syria against separatist moves out of fear that that could provoke Turkey's own separatist Kurdish militants who have been fighting for autonomy for three decades.
— With assistance by Henry Meyer, and Cagan Koc
Before it's here, it's on the Bloomberg Terminal.
LEARN MORE