Temer Is Brazil's Most Unpopular Leader Ever, Poll Says
By and
Only 3% of population consider government good or very good

Temer administration pursing austerity measures after slump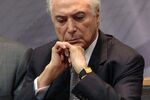 Michel Temer is Brazil's most unpopular president on record and his government got no "very good" rating at all from women as he faces corruption charges and pushes economic austerity measures, an opinion survey showed.
Temer's government was rated as good or very good by 3 percent of respondents, down from 5 percent in July and the lowest of any president, according to an Ibope poll published on Thursday by the National Industry Confederation or CNI. Meanwhile, 77 percent of those surveyed described his government as bad or terrible, up from 70 percent previously. No women at all rated his administration as "very good" and 63 percent rated it as "very bad", the poll showed.
The president has repeatedly shrugged off his lack of popular support. With no plans to run for re-election in October 2018, Temer is pursuing a series of unpopular austerity measures aimed at restoring Brazil's fiscal credibility. Corruption charges have weakened the president's standing with the public. Temer may also lose support in Congress as lawmakers distance themselves from him as elections approach.
Former leftist president Luiz Inacio Lula da Silva and a former Army captain lead voter intention ahead of next year's election amid widespread disillusionment with the country's political establishment, an MDA poll showed earlier this month. Market-friendly candidates from Sao Paulo trailed a distant third and fifth, respectively.
The Ibope poll surveyed 2,000 people in 126 municipalities on Sept. 15-20. The margin of error was plus or minus 2 percentage points.
— With assistance by Bruce Douglas
Before it's here, it's on the Bloomberg Terminal.
LEARN MORE