May Says Boeing Undermining Ties With U.K. Over Bombardier
By
'Not the kind of behavior we expect from a long-term partner'

U.K. prime minister comments after speech at Bank of England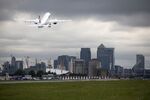 Prime Minister Theresa May hinted that Boeing Co. risks future contracts with the U.K. if it continues to press its case against Bombardier Inc., which employs more than 4,000 people in Northern Ireland.
Speaking after a preliminary U.S. Department of Commerce ruling placed punitive import duties on Bombardier aircraft after a dispute over state subsidies, May said she is working with the Canadian government and leaders from across the political divide in Northern Ireland for a solution.

"We have a long-term partnership with Boeing, in various aspects of government, and this is not the kind of behavior we expect from a long-term partner and it undermines that partnership," May said after a speech at the Bank of England in London on Thursday. Her focus is on "how we can work together to impress on the American government the importance of Bombardier to Northern Ireland."
May's intervention echoes comments by Defence Secretary Michael Fallon and reflects growing frustration in government over the failure to broker a solution.
High Impact
The dispute is potentially highly damaging to May, who relies on the support of 10 lawmakers from Northern Ireland to keep her Conservatives in power. And the fact that her lobbying of Donald Trump brought no obvious results has raised questions about the post-Brexit free-trade deal with the U.S. that both countries say they are keen to secure.
"A prime minister betting our economic future on a deregulated trade deal with the U.S. might want to explain how 220 percent tariffs are going to boost our exports," opposition Labour Party leader Jeremy Corbyn said in a speech on Wednesday. "If the special relationship means anything, it must mean that we can say to Washington: that way is the wrong way."
While Bombardier employs 4,000 in one of the most politically sensitive parts of the U.K., a conflict with Boeing also risks jobs.
The Chicago-based company, which sells Apache attack helicopters, Chinook transports and surveillance planes to the British military, supports more than 18,700 jobs either directly or though its supply chain, it said in a statement posted on its website. The company also "broke ground" this month for a factory in Sheffield, northern England, its first in Europe.
Protectionism Alert
In her speech at the U.K. central bank, May mounted a staunch defense of free markets and later warned of "aspects of protectionism creeping in around the world."
"I want the U.K. to be a global champion of free trade, because I think those of us who believe in free trade need to stand up, not just explain its wider benefits, but help to explain its benefits to individuals," she said.
Bombardier is the largest manufacturing employer in Northern Ireland, the poorest of the U.K. regions. The province has struggled to grow its economy after decades of sectarian conflict and it continues to be plagued by political difficulties.
At over 5 percent, unemployment in Northern Ireland is well above that of the U.K. as a whole and gross value added per head is almost 30 percent below the national average.
Before it's here, it's on the Bloomberg Terminal.
LEARN MORE