Macron's Vision of EU Future Wins Pledge for Reform Checklist
By , , and
Leaders in Tallinn greet French peer's EU vision with reserve

Merkel may not have government before December at earliest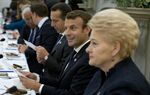 The European Union pledged to hammer out a list of tasks and deadlines for overhauling the world's largest trading bloc over the next two weeks as its leaders pull away from a decade of crises and toward a future without Britain.
EU President Donald Tusk's promise for a detailed road map follows a tepid reception from other leaders to the plan presented by French President Emmanuel Macron on Tuesday to transform Europe. Tusk said he'd speak with the heads of other member states, many of whom expressed caution about embarking on a dramatic a shake-up after a decade that included the Greek deb crisis, Brexit, terrorism and the worst refugee crisis since World War II.
"I want to avoid getting bogged down in technical debates about tools or institutions," Macron said Friday before entering a meeting with other EU leaders in the Estonian capital Tallinn, about 130 miles from the Russian border. "We need to share targets and goals."
Among those rationing enthusiasm for the EU's newest leader was Angela Merkel, the bloc's longest-serving government chief, who must now pay attention to the views of potential coalition partners after her less-than-dominant election victory on Sunday. She uncharacteristically made no statements as she entered the summit after saying Macron's plan "contained important building blocks" before a dinner with her peers the night before.
Other leaders, while speaking in a largely uniform chorus in support of reforms, offered distinct views about the pace and scope of changing how the EU could work.
Romanian President Klaus Iohannis said talks shouldn't start with anything that would require changes to EU treaties. The Netherlands' premier, Mark Rutte, said individual nations should tackle reforms at home before a wider revamp. And Austrian Chancellor Christian Kern said countries that wanted to integrate and accelerate cooperation shouldn't be held back by those who don't.
"We're in a time of change -- it's a time of opportunity for Europe," Danish Prime Minister Lars Lokke Rasmussen said as he entered the venue. "I think there was an appetite to engage such matters, such politics, but I didn't sense much enthusiasm about the idea of gathering countries willing to move ahead on institutional matters and have a big debate on that."
Macron, Merkel
At the heart of the debate is how much support Macron can expect from Merkel. French presidents and German chancellors have always been the twin drivers of Europe's postwar projects. Their countries' economic clout and bloody history have made them the engine of Europe's 20th Century rehabilitation. While political change and fickle economic winds mean tighter European cooperation has flitted in and out of fashion, the sense now is that the EU has put 10 years of crises behind it and can look forward again.
That won't be straightforward for the German leader, who huddled with Macron Thursday night. As she tries to piece together a coalition with the Free Democrats and the Greens after her previous partners said they wanted to return to opposition, her delegation let it be known that the country won't have a government to focus on the European agenda for at least two months, according to two EU officials.
Common Ground
There were few signs Macron will get anyone to support his entire package -- and its ambitious deadlines -- which includes deepening EU ties on security, the economy, the environment and foreign policy. But some countries said they could potentially sign up to individual proposals, an EU official said.
"The one thing we agreed upon last night was not to start the discussions with technical details," said Romania's Iohannis. "We have to start with open-minded politicians, discuss and see which are the policies we want to redefine and then decide on the practical means to put them in practice."
Leaders will spend Friday at a summit devoted to digital issues, which the Estonian government -- currently the holder of the EU's six-month rotating presidency -- considers the country's biggest selling point.
But other leaders had their own concerns. Mariano Rajoy, Spain's leader, skipped the meeting altogether to focus on Sunday's illegal independence referendum in restless Catalonia. U.K. Prime Minister Theresa May, who's poised to be the first person to lead a country out of the bloc, looked to add momentum to the jolting negotiations over Brexit after her own landmark speech last week.
She looked to be headed for disappointment, with Juncker saying he expected little progress on issues tied to Brexit. A handful of leaders also said the U.K. had to make more progress on the three main negotiating points -- the treatment of EU citizens, the border with Northern Ireland, and most importantly, the exit bill -- before moving forward.
— With assistance by Arne Delfs, and Ian Wishart
Before it's here, it's on the Bloomberg Terminal.
LEARN MORE