business
How Adidas's American Revival Turned Into Scandal
By , , and
Sneaker company doubled-down on high school, college players

Execs allegedly hid player payments through phony accounting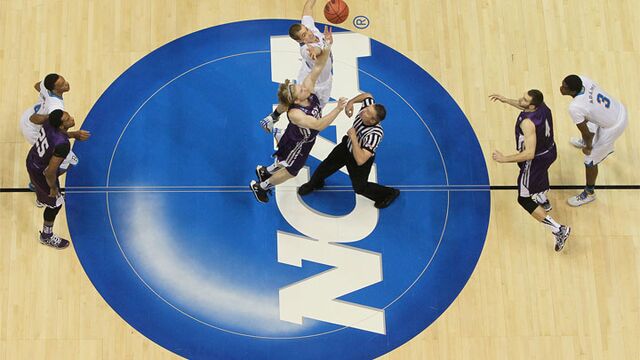 It was in a Las Vegas hotel room where, prosecutors claim, the head of an elite youth basketball team from Florida and a coach from the University of Louisville planned their strategy to steer a young phenom to the Cardinals.
They agreed it would take cash for the teenager and his family, payments they'd have to hide from the National Collegiate Athletic Association, according to a criminal complaint unsealed Tuesday. The youth coach said Adidas would help out, that the company sponsored his team and was eager to cement its relationships with NBA prospects. "All my kids will be Adidas kids," the coach said, according to the complaint.
Ironically, that was the kind of brand loyalty Adidas craved. It focused on winning over America's top high school and college athletes three years ago, part of a broader strategy to revive its U.S. business. It worked -- after years of Nike dominance, Adidas is hot again in the U.S. The company is also now at the center of a federal corruption probe into college basketball. At least one of its executives, Jim Gatto, was placed on leave after his arrest on charges of bribery and fraud. A consultant with ties to Adidas, Merl Code, was also charged.
New Strategy
Not long ago, Adidas was an afterthought to Nike in college basketball and flailing in North America in general. Its 2009 acquisition of Reebok wasn't working, and it was losing ground in global soccer, the sport at the core of the German company's business. In 2014, Mark King took over Adidas North America and announced his plan to compete more aggressively to outfit colleges and universities, a piece of a larger effort to appeal to younger consumers.
"We have to go out and sign a bunch of colleges," King said in 2015. The company had already supplanted Nike as the official outfitter for Arizona State University and the University of Miami. It expanded from there, adding Georgia Tech to a list that included Indiana University and the University of Kansas.
It also re-upped with Louisville, which is central to the federal investigation. Earlier this year, the shoe company agreed to pay the university $16 million a year for 10 years, the biggest college deal in Adidas history. It also pays Rick Pitino, the program's head coach who was suspended without pay on Wednesday. "It is vital for this university to strictly adhere to NCAA rules and, of course, federal law," interim president Greg Postel said in a press conference.
Adidas also focused on youth sports. In 2015, Chris Grancio, then Adidas' global basketball general manager, said in an interview that the company's success hinged on getting more Adidas shoes on the feet of "high school kids." The company reinvested in travel teams and summer basketball tournaments for the country's top recruits. In the McDonald's All-American Game, the annual high-school all-star game shown in prime time on ESPN, the kids wear Adidas head-to-toe. Its ad campaigns featured hyped-up high-school teams and players across sports.
Illicit Payments
In order to preserve their eligibility for a college athletic scholarship, high-school players aren't allowed to take money from shoe companies -- or anyone else -- but as the federal investigation details, it happens anyway. Gatto and Code allegedly agreed to make payments as high as $150,000 to top recruits, college coaches and to Jonathan Brad Augustine, the coach of the Florida youth team.
According to the complaint, Code explained how Gatto and others at Adidas masked the allegedly unlawful transfer of funds. They recorded it as a payment to an organization affiliated with Code. When one of the defendants expressed surprise that the company would put it on the books at all, "Code confirmed that Gatto had identified it 'as a payment to my team, to my organization,'" the complaint says. At one point, frustrated by delays, Code suggested he might have to lean on a senior Adidas executive "and some of his side-hustle off-the-books s---."
Adidas said in its statement that it "was unaware of any wrongdoing and will fully cooperate with authorities to understand more." Lawyers for Gatto, Code and Augustine didn't return requests for comment; Augustine also didn't respond to a message left on his mobile phone.
The current scandal -- and past troubles -- suggest these unlawful practices aren't limited to Adidas. In the details of the complaint, a would-be agent is quoted saying a top recruit needs more money because an Adidas rival was "coming with a higher number." Of the seven schools mentioned in the complaints only two are sponsored by Adidas. Two are supplied by Under Armour and three by Nike.
All three companies wield a good deal of power on the youth basketball world, a fact not lost on investigators. According to ESPN, Nike's youth basketball division, EYBL, was served with a subpoena in connection with the bribery probe. The company, which declined to comment on EYBL's involvement, earlier in the week threw shade at Adidas, saying it "strongly opposes any form of manipulation."
Grassroots Game
Adidas was once a major player on the basketball scene. In the early 1990s, it hired Sonny Vaccaro, a sneaker executive who had helped bring Michael Jordan to Nike. While at Adidas, Vaccaro focused his attention on top high-school players, including Kobe Bryant and Tracy McGrady, then able to join the NBA right out of high school. Before he left Adidas in 2003, Vaccaro wielded formidable ability to steer top players to specific colleges and to influence employment for coaches in the college ranks. In 1993, he hired Jim Gatto.
"Basketball is a grassroots sport with the connections between brands and players starting at a really young age," said Chen Grazutis, an analyst for Bloomberg Intelligence who covers the sporting goods industry. "The assumption is they are going to stay with that brand going forward. That's why they're making those investments."
The NBA stopped drafting players right out of high school in 2006, complicating shoe companies' investments in elite youth teams. In college, athletes play in sneakers provided by their school's apparel partner. Companies like Adidas and Nike use their university partnerships in part to further develop relationships with players; at the same time, shoe companies try to steer top teens toward their college affiliates.
Adidas Turnaround
For Adidas, King's push into college sports and youth sports -- along with the halo from the successful re-release of the Stan Smith tennis shoe and collaborations with hip-hop artists Kanye West and Pharrell Williams -- has been central to the brand's revival. Earlier this year, Adidas shocked analysts by passing Nike-owned Jordan as America's second-most popular sneaker.
Analysts downplay how much this scandal could slow the brand's momentum, which is driven mainly by its lifestyle and running shoes. "I don't see any real danger to the Adidas retail business," said Matt Powell, an analyst for NPD, noting that Adidas has just 4 percent of the market in basketball. (Nike has 87 percent.) "Even if people said 'I'm not going to buy a basketball shoe' because of this, which is a reach, there's very little business to give up."
What's more, consumers have come to expect corruption in college sports, said Allen Adamson, founder and CEO of Brand Simple Consulting. "Most consumers already assume that all of these companies behave badly and are breaking the rules."
— With assistance by Eyk Henning, and Richard Weiss
Before it's here, it's on the Bloomberg Terminal.
LEARN MORE