Business
H&M Hits the Wall
Retailer struggles to move on from its store-on-every-corner strategy
By , , and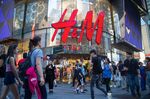 After saturating the developed world's shopping districts with its clothing stores, Swedish retailer Hennes & Mauritz AB is bumping up against the limits of a business model that has made popping out for one of its $7 tank tops as easy as grabbing a cheeseburger and fries.
H&M reduced its store-opening forecast for a second time this year as online competition forces markdowns that are cutting profit margins and hitting its share price, which fell as much as 7.2 percent in Stockholm. The retailer said it will focus on e-commerce, new brands and developing markets in a quest for growth that's becoming more elusive.
 "It's happening fast, so we need to be very disciplined in where we open -- that we open in markets we believe have growth potential for many years to come," Chief Executive Officer Karl-Johan Persson said in an interview Thursday. "And in more established markets we will work more with what we already have."
The reduced ambitions at H&M show that even one of the world's biggest and most successful fast-fashion chains isn't immune to the retail industry's broader crisis as shopping shifts online. The Swedish company is doing better than U.S. apparel chains and department stores that are closing stores en masse -- including Ralph Lauren Corp.'s flagship on New York's Fifth Avenue -- but it plans to reduce net openings to 385 this year from an initial forecast of 430 and 427 in 2016.
Kazakhstan, Iceland
Instead of pursuing ubiquity, H&M said it will focus on online expansion and new brands like recently introduced Arket, focusing store openings on countries such as Kazakhstan, Colombia, Iceland and Vietnam -- with Georgia on tap this autumn. Included in the recent closures are the company's two oldest stores in central Milan, though a spokeswoman said they've been replaced by "larger and better" ones nearby.
The move to scale back follows an aggressive summer clearance in which H&M lowered inventory levels that have alarmed investors. The sales ate into margins, and third-quarter pretax profit fell 20 percent.
 "Lots of fashion retailers struggle with the dramatically changing fashion market," Andreas Inderst, an analyst at Macquarie Capital, said by phone. "H&M can't escape that. Their physical store networks in established markets like Germany are exceptionally large and as customers shift demand to more online that has negative implications on footfall and store productivity."
 So far Spanish rival Inditex SA, which owns the Zara chain, has responded more nimbly to the changes in the retail landscape, speeding up the product-development cycle to as little as a few weeks and expanding its online offering early and aggressively. But even the fastest of fast-fashion retailers has encountered headwinds, this month reporting that profitability in the first half fell to an eight-year low as it struggled with a strong euro.
 H&M said it will add another new brand in 2018 after rolling out Arket, which sells slightly more expensive utilitarian fashion than the company's core stores. The new label, which joins previously added names like & Other Stories and Cos, has had a "successful reception" in markets like London as well as online, the company said.
 Not all of H&M's attempts at expanding smaller formats have succeeded. The retailer has whittled down the store count of Cheap Monday, a denim chain, to 3 shops, preferring instead to operate via websites. H&M acquired the brand along with Weekday and Monki in 2008. Weekday now has 30 stores while Monki has 115, a far cry from H&M's more than 4,000.
 Unsold Stocks
 As H&M sought to clear inventories, markdowns in relation to sales rose 2.8 percentage points in the third quarter, compared with a year earlier. While that reduced unsold piles of jeans and sweaters, Morgan Stanley analysts said they remain high relative to historical levels at 133 days' worth of sales, compared with 110 days three years ago.
"Inventory remains the biggest issue at H&M, as the aggressive summer clearance has at best improved only the quality of stock, rather than reducing it," Charles Allen, a London-based analyst at Bloomberg Intelligence, said in a note.
H&M's online sales are growing and already account for more than a quarter of sales in some markets, the company said. It's expanding online shopping to new markets like the Philippines and Cyprus. Persson said e-commerce is expected to grow by 25 percent or more for years to come, with digital sales surpassing those in stores before 2030.
 Rising online sales come with a downside, though, if fewer consumers leave their homes to head to one of H&M's shops. E-commerce growth did not offset "reduced footfall to stores in several of our established markets, which has resulted in our total sales development not reaching our targets so far this year," Persson said in a statement.
Before it's here, it's on the Bloomberg Terminal.
LEARN MORE