For Clues on Where the Dollar Is Heading Next, Look to Beijing
By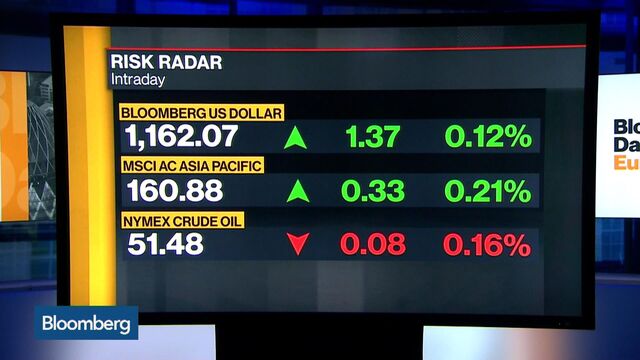 China's central bank may be playing an increasingly pivotal role in global currency markets.
The greenback has done a stunning about turn, with the Bloomberg Dollar Spot Index climbing 2.5 percent from its low on Sept. 8. While a more hawkish Federal Reserve, planned tax reforms and selling fatigue no doubt played a part, the rebound coincided with a dramatic move by China's central bank to weaken its currency.
As reported by Bloomberg News and others late on Sept. 8, the People's Bank of China lifted rules that made betting against its currency expensive -- a green light for bears. The yuan erased a gain of as much as 0.8 percent on the day, and has fallen every day bar three since.

It's not the first time shifts in China's currency policy have corresponded with reversals in the dollar. A surge in interbank rates in Hong Kong in early January crushed bearish bets against the yuan, sending the offshore exchange rate to its best weekly gain on record. While the Bloomberg Dollar Spot Index was little changed on the week, it marked the high point for the year.
With the offshore yuan accounting for just 3 percent of the Bloomberg Dollar Spot's composition (the euro is largest at about 32 percent, followed by the yen with 18 percent), its moves alone aren't enough to drive the greenback. And China's central bank intentions toward the yuan remains opaque, with traders forced to read the tea leaves in the shape of daily currency fixings. On that, dollar bulls may want to watch out -- stronger-than-expected yuan reference rates suggest officials are keen to end the recent bout of weakness.
— With assistance by Tian Chen
Before it's here, it's on the Bloomberg Terminal.
LEARN MORE