Finance
Diamond Dealers Cling to the Old Days
It's a corner of global business that's been barely touched by 21st century capitalism. Now banks want their money.
By and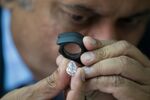 Ashit Mehta was stunned. Without notice, the representatives of Dutch bank ABN Amro marched into the offices of his global diamond empire, confiscated $150 million of rocks, locked them in a vault and left with the key.
What began on that overcast December day in 2012 turned out to be just the start of the problems for the secretive family-run diamond trading houses that have defined the Belgian city of Antwerp for centuries. 
They make up the invisible link between African mines and jewelry stores in New York, London and Hong Kong, and are being squeezed like rarely before. The banks whose loans they relied on to buy gems are pulling out of a business they no longer think is worth the risk in the post-financial crisis age of increased regulation and scrutiny.
Mehta managed to switch to another lender after his brush with disaster, but now it too wants out. He's adamant he can overcome anything.  "I'm not the person to run away," said Mehta. "This business made me what I am."
It's a corner of global commerce that's been barely touched by any corporate machine. There are no 21st century compliance departments, paper trails or investors to answer to. But the antiquated world is being upended.

In the good old days, the world's monopoly producer, De Beers, would give a select group of about 100 traders discounted rough rocks and banks would provide the money to buy them. The profit came from processing the diamonds and selling on the polished stones, in Mehta's case to the U.S. and Japan and more recently China.
"The industry in many regards has kept its position that 'this is always how we've done it, so this is how we'll do it,'" said Kieron Hodgson, a commodities and mining analyst at Panmure Gordon & Co. in London. "You've had a significant shake out of companies who have failed to move with the times and the increasing need for transparency."
Two of the biggest lenders to the diamond traders, Standard Chartered Plc and KBC Group NV, are trying to exit the business. Standard Chartered has already taken about $400 million in losses and has about $1.7 billion of loans still to be recouped.
De Beers, meanwhile, has ripped up the decades-old unwritten contract it had to supply rocks on the cheap, pushing up prices since 2011 as upstart miners encroached on its patch. It's also forcing clients to be more corporate, seeking financial information you just didn't ask for in Antwerp's diamond quarter.
"People are feeling stretched, or not making profit," Mehta said last month at his office among the dozens of diamond trading houses crammed together on two narrow side streets with retractable bollards and security cameras. "It's a liquidity thing because the banks are becoming very strict."

Mehta, 60, encapsulates how dozens of families dominating the global diamond trade are clinging to their livelihoods and their way of conducting business. 
He arrived in Antwerp in the early 1980s, dispatched by his family with $1.5 million to build what is now Arjav Diamonds NV. His father had been among the first generation of Indians that started to pick up the trade and infiltrate a very Jewish domain by focusing on the smallest stones and sending them back to India where labor costs were lower.
With the introduction of a Jewish broker, and a room in another dealer's offices, Mehta built the firm into one of De Beers' handpicked customers before years later becoming the first of the "diamantaires" in post-crisis Antwerp to feel the pinch from the banks so visibly. Since then he has hired an external financial director, says his compliance is up to scratch, and, like the others now, follows international financial reporting standards.
But trying to get a clear sense of his company's financial strength isn't easy. "That is too personal a thing," he said. 
According to its last set of filed accounts, sales were $542 million, down by a third from two years before. Net income more than halved to $207,567. Debt stood at $500 million and it held diamond stock of $271 million. Mehta said the business only actually owes banks $190 million, and the rest of the debt is loans from his family. He expects sales to reach $700 million this year.
Banks increasingly want their money back. Bailiffs raided Exelco NV's offices a few doors down in June, though a court ordered that its assets be returned because the seizure was premature. Exelco has declined to comment on the situation. This week, it filed for bankruptcy protection. 
Some diamond dealers have such low cash reserves that others won't do business with them, according to some traders in Antwerp. In May, AIG Inc., which insures many in the industry, didn't renew cover for at least one of the biggest dealers, according to a person with knowledge of the decision.
Mehta believes banks in his native India will pick up some of the slack and he's confident he will stay in business. Over the past decade, their share of lending to diamond traders has risen to more than 50 percent from about 30 percent, based on unofficial data from 60 banks. But he warned that if they don't fill the void, lenders won't get their money back.
"We have a very simple answer," he said. "Replacement will be the only way for repayment."
With graying wavy hair, a mustache and a closely tailored suit, Mehta sat with a cup of tea and looked out at a bank of screens on which he can monitor nearly every movement. To his right was a panel of switches that lock and unlock the doors around his rabbit-warren headquarters.
On the other side was the seven-foot door of his main vault. On it was a swastika -- an ancient symbol of good luck in India -- daubed in thick red paint. He points to a photo of his nephew's five-year-old son, inspecting a diamond with a loupe, or small magnifying glass. 
"My twin grandchildren are 11 months old," Mehta said. "To both of them I am talking business. And when I'm talking business on the phone, I always talk in front of them. I trust the business. I want to stay."
(
Corrects "grandsons" to "grandchildren" in final paragraph.
)
Before it's here, it's on the Bloomberg Terminal.
LEARN MORE