Carney's BOE Celebration Reopens Crisis Wounds Among Key Figures
By and
Gordon Brown says bank was too slow to respond to downturn

Mervyn King says that's an 'attempt to rewrite history'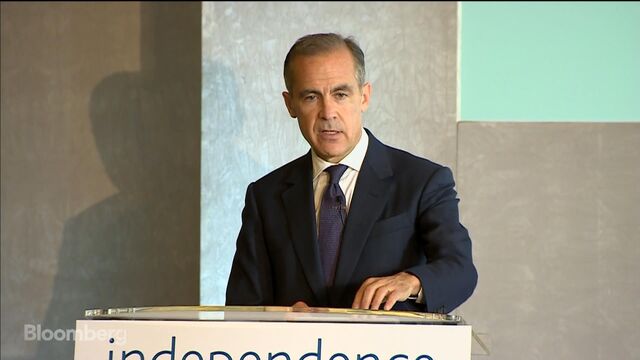 A conference that was meant to toast 20 years of Bank of England independence re-opened old grievances between two of its key architects.
Former U.K. Prime Minister Gordon Brown, who gave the BOE autonomous control over interest rates in 1997 as head of the Treasury and one of the keynote speakers on Thursday, told the conference that he wasn't happy with the bank's initial response to the financial crisis in 2007. Though he wasn't in attendance, Mervyn King, governor during the turmoil, took a dim view of that.

Brown, in a lengthy lecture giving a potted history of his relationship with the bank, said it was too slow to cut interest rates initially compared with the Federal Reserve, which forced him to open the fiscal floodgates to support the economy. Brown also said he was frustrated that the BOE lectured the government about not using fiscal policy to combat the downturn.
King wasn't at the conference in London, a notable absence given his huge role in the Bank of England's history over the past 30 years -- among other things, he helped design the Monetary Policy Committee when it formed in 1997. When Bloomberg contacted him by email, he replied:
"I am not going to comment on a politician's attempt to rewrite history."
Battling the financial crisis and responding to the recession wasn't an easy time for any policy maker, and clashes are no surprise. In his book on that time, Alistair Darling -- Brown's successor -- wrote of his difficult relations with the "incredibly stubborn" King. For his part, King hasn't published a memoir since retiring from the BOE in 2013, though he has written a book on the crisis itself called "The End of Alchemy."
Brown, who was chancellor from 1997 until he became prime minister in 2007, said he didn't speak out at the time about BOE policy as its independence needed to be protected. 
"I did not complain, I said nothing, but I thought at the time that this is completely unacceptable and it was not the way of dealing with an economic crisis. It was too slow to act." 
According to Brown, this isn't a tenable position. If a government had to accept a central bank's interest rate decisions, while that bank insists on a right to comment on fiscal policy, "independence would be put at risk," he said.
"We had a situation where I refused to talk about monetary policy in tribute to the desire to protect the independence of the bank. But the bank, unfortunately and contrary, I believe, to its target ... was telling us that fiscal activism was completely unacceptable to them to deal with the crisis."
— With assistance by Lucy Meakin
Before it's here, it's on the Bloomberg Terminal.
LEARN MORE