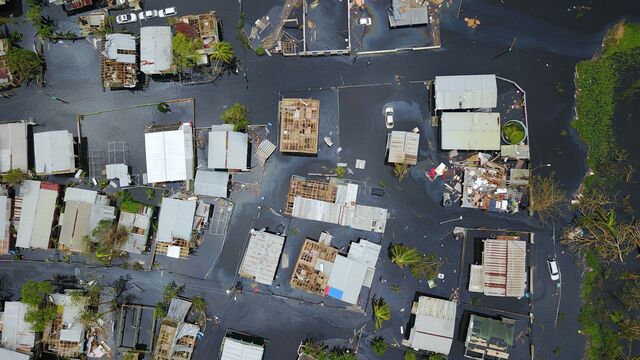 Few places were as financially ill-equipped to deal with a catastrophe as Puerto Rico. After years of losing residents as the economy staggered, the U.S. territory of 3.4 million residents collapsed into a record-setting bankruptcy in May and has stopped making payments on much of its more than $70 billion of debt. Then came Hurricane Maria on Sept. 20, which wiped out the already dilapidated electricity system, flooded cities and ruined crops. While humanitarian concerns are taking priority, the island's bondholders, both on the island and mainland U.S., are watching and worried. President Donald Trump weighed in by suggesting Puerto Rico's government debt would need to be wiped clean to help the island recover, causing bond prices to tumble to new lows.
1. What exactly did Trump propose?
Nothing official. After visiting the island on Oct. 3, he told Fox News: "We are going to work something out. We have to look at their whole debt structure. You know they owe a lot of money to your friends on Wall Street. We're gonna have to wipe that out. That's gonna have to be -- you know, you can say goodbye to that. I don't know if it's Goldman Sachs but whoever it is, you can wave goodbye to that." Mick Mulvaney, director of the White House budget office, walked back the president's comments on Wednesday, saying that the federal government wasn't going to bail out the island, whose debts are already being dealt with under an emergency bankruptcy law enacted by Congress.
2. Could the debt simply be wiped out?
It's unclear how Puerto Rico's debt could just be made to disappear outside of bankruptcy court, and even if Trump wanted to it would be contrary to longstanding American legal precedent. James Spiotto, a municipal bankruptcy law expert at Chapman Strategic Advisors, said it would require an act of Congress. But some Republicans previously opposed even extending bankruptcy to the territory. And any act, were it to pass, would certainly be challenged by bondholders in court. Repudiating about $74 billion in municipal debt, billions of which are guaranteed by the island's constitution, would shake investor faith in a market long considered one of the safest of havens. That could potentially increase borrowing costs for states and cities around the U.S.
3. Who's affected by the island's debt plight?
Many people in the U.S. with a municipal-bond mutual fund once held the island's bonds, though many had to unload the securities after the crisis worsened and they were cut to junk grade. That left much of the debt in the hands of hedge funds and big investment firms that wagered they would rebound.
4. What is the federal government doing?
Trump and the Republican-led Congress will almost certainly provide aid needed to finance the island's recovery, as the federal government routinely does after major natural disasters. The White House is crafting a $29 billion disaster-aid package it intends to send to Congress that would include $16 billion to shore up the federal flood insurance program and $13 billion in additional relief covering the entire hurricane and wildfire season, including major storms that hit Texas, Louisiana and Florida as well as Puerto Rico, according to a Republican lawmaker. Moody's Analytics estimates the island sustained $95 billion in hurricane-related damage.
5. What will happen to bond payments?
Very little, for the time being, because repayments on much of the debt are already on hold. Before its bankruptcy, Puerto Rico defaulted on a vast swath of its bonds, including so-called general-obligation debt that's given a top claim on the government's revenue. With the bankruptcy sheltering it from creditor lawsuits, it has continued to skip interest payments to free up cash. This allowed the government to avoid draconian budget cuts that officials said would have only worsened the crisis by slowing the economy. Puerto Rico has told a bankruptcy judge that the toll from Maria won't significantly delay its efforts to restructure debt in court, though it has asked for a month-long extension on some upcoming deadlines.
6. So, will Puerto Rico eventually be able to repay?
That's extremely unlikely. The reason it filed for bankruptcy was to have its onerous debts written down in court after investors balked at voluntarily accepting less than they're owed. The disaster could leave Puerto Rico with even less money to repay its debts down the road. All that depends on the cost of rebuilding, how much tax revenue is lost, the scale of the federal government's help and the extent of the damage to any government-owned property that could potentially be sold to raise cash. It's also crucial to the economy that residents stop leaving in droves. Fitch Ratings says the storm will likely weigh on how much bondholders eventually recover, given the potential need for Puerto Rico to find funds for rebuilding not covered by federal aid.
7. How is the market reacting?
The prices of Puerto Rico bonds dropped after the scale of the storm's damage became apparent, indicating that investors thought it's likely they'll recoup even less on their defaulted securities than they previously expected. The island's most frequently traded general-obligation bonds fell to as little as 30 cents on the dollar, a record low, after Trump's comments, while other securities are trading for even less. Even before the president's remarks, the bonds had been falling because of the setback to the economy dealt by the hurricane. That wasn't the case with securities of other municipal borrowers, such as Houston, that remained little changed after major disasters because investors were confident about the governments' ability to rebound.
8. Will the island recover?

Much of that will depend on whether residents stay to rebuild or leave for the U.S. mainland. The island's financial crisis was, in part, the result of a long-running population exodus as hundreds of thousands left looking for work. The government borrowed for years to delay the reckoning, hoping for an economic turnaround that never arrived. The population dropped by 8 percent from 2010 to 2016. If people continue to leave, the economy will likely shrink as well, leaving less tax revenue to repay its debts.
The Reference Shelf
— With assistance by Michelle Kaske, and Rebecca Spalding
Quotes from this Article
Before it's here, it's on the Bloomberg Terminal.
LEARN MORE