Uber Appeals 'Perverse' Driver-Pay Decision by British Judges
By
Two Uber drivers sued company in London over pay, treatment

Uber lawyer compares ride-share company to a minicab service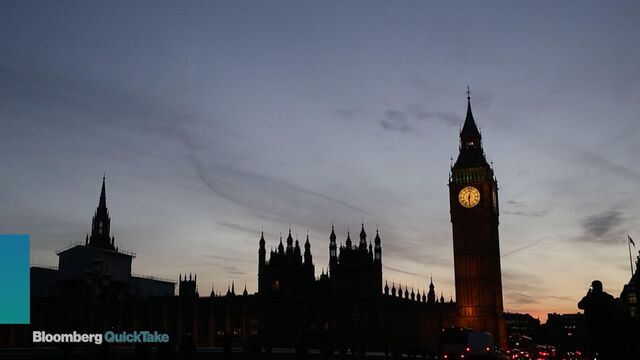 Uber Technologies Inc.'s global legal battles returned to a London court, as the ride-sharing company continued to fight attempts by regulators and taxi drivers to force it to pay overtime and vacation pay.
The San Francisco-based company is appealing an October decision by a three-judge tribunal that gave U.K. drivers the right to more benefits, threatening how firms treat workers in the country's burgeoning gig economy. Uber called the ruling "perverse," saying the drivers didn't have contracts and so shouldn't get benefits of full-time employees.
The case, brought by two drivers, was the first against the company in Britain and could have ramifications for thousands of drivers there. Uber attorney Dinah Rose on Wednesday compared the company to private-car hire firms commonly called mini-cabs and said that the drivers didn't have a contract with Uber. In the October decision, the judges criticized Uber for sticking to "faintly ridiculous" arguments that it is an application provider rather than a taxi service.
"Uber has done a U-turn -- at the employment tribunal, the firm argued that they were not a taxi company, but an app putting customers in touch with drivers," Rachel Farr, a senior lawyer in the employment, pensions and mobility group at Taylor Wessing, said. "Now Uber says that they are no different from a traditional mini-cab firm with self-employed drivers."
Uber has faced complaints about working conditions around the globe, and while the U.K. is the company's largest European hub, it has also been leading the fight against the service. London's transport regulator is proposing banning Uber from the capital because of concerns about passenger safety, and a 44-year-old female driver backed by the GMB union sued for sexual discrimination this week, saying the company doesn't protect workers.
Two Elephants
Uber is "entitled to a fair hearing uninfluenced by external pressure," Rose said at the start of the appeal. "There are two elephants in this room that need to be acknowledged then politely shown the door:" Transport for London's license decision and the wider political debate about the so-called gig economy. 
Uber said that almost all taxi and private hire drivers were self-employed for decades before it released its app, and said its drivers were able to set their own hours. 
"Last year drivers using our app made average fares of 15 pounds ($20.13) per hour after our service fee," the company said. "We've recently invested in a number of changes, including discounted illness and injury cover, paid waiting time and the ability to cash out fares at any time."
James Farrar, a co-plaintiff and chair of the IWGB union's United Private Hire Drivers branch, said Uber was appealing the case to buy time and market share in the U.K.
"We know we are going to win, they know we are going to win, but they are doing everything they can to drag it out and buy themselves time to build a monopoly," Farrar said.
Gig Economy
The case may have implications for the broader so-called gig economy, where workers use apps to perform jobs but don't receive the benefits of being an employee. Judges in the U.K. have demonstrated sympathy for the argument that the workers should receive more protection. This week, a tribunal said that drivers for the private car company Addison Lee couldn't be classified as self-employed. The food-delivery company Deliveroo, valued at more than $2 billion, has also faced complaints from couriers.
"The tribunal will be aware of the public, press and political attention recently attracted by concerns over the gig economy," Rose said in documents prepared for the appeal. "Uber's business model has often been held out as an example of this phenomenon."
However, the "position of drivers who use the app is materially identical to the position of self-employed private hire drivers who operate under the auspices of traditional mini-cab firms."
Global Suits
Uber is facing regulatory and legal issues from San Francisco to Germany as its new chief executive officer, Dara Khosrowshahi, is wrangling with suits over theft and bribery while also dealing with the reputational fallout over sexual-harassment and bullying allegations. The company said its French UberPop unit fell victim to political pressure that caused local prosecutors to bend rules to gain a criminal conviction.
It's easy to lump a range of app-based service companies together and label them the gig economy, then "decide they are all wicked companies exploiting their workforce," Rose said.
— With assistance by Adam Satariano
Before it's here, it's on the Bloomberg Terminal.
LEARN MORE