Boris Johnson Hosts Launch of Hard-Brexit Pressure Group
By
Institute for Free Trade will lobby ministers to drop tariffs

Event comes after May adopted softer language toward the EU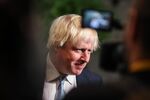 U.K. Foreign Secretary Boris Johnson is to host the launch of a pressure group that is pushing for maximum distance from the European Union, less than a week after Prime Minister Theresa May tried to woo EU leaders with softer language on Brexit.
The Institute for Free Trade has been set up by the pro-Brexit Conservative member of the European Parliament, Daniel Hannan. In an article explaining its mission, he said Britain should reject the course of rolling over existing EU tariffs and quotas and instead "open our markets in the way Hong Kong and New Zealand have done." The group's website also calls for new trade networks to be based on mutual recognition, rather than standardization. Both would be likely to make a Brexit arrangement mirroring Britain's current single market access more difficult.
Johnson has been agitating for a harder Brexit stance than May is taking, flirting with the idea of resignation in advance of her speech in Florence, before backing down and going along with her.
The IFT said on its website that it planned to "use our extensive networks within governments" to lobby for its stance. Its launch event, which will be closed to press, will be held in the Map Room of the Foreign Office on Wednesday evening. As well as Hannan, the speakers will be Johnson, Trade Secretary Liam Fox, and Icelandic Foreign Affairs Minister Gudlaugur Thor Thordarson.
Before it's here, it's on the Bloomberg Terminal.
LEARN MORE