Alabama Voters Reject Trump's Candidate, Spurning President
By and
Uncompromising conservative Roy Moore defeats Trump's pick

Moore will face Democrat Doug Jones in December election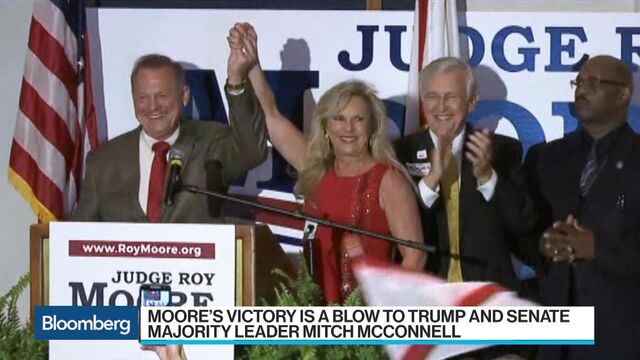 President Donald Trump was rebuffed by the same Alabama voters who turned out en masse for him in November when they rejected his choice for the U.S. Senate in favor of an unabashed religious conservative who ran against the Washington establishment.
Roy Moore, a former chief justice of the Alabama Supreme Court who was removed from office for his display of a Ten Commandments statue, on Tuesday defeated incumbent Senator Luther Strange, capturing almost 55 percent of the vote. 
Trump -- who belittled traditional Republicans in his insurgent bid for the presidency -- had campaigned for Strange in Alabama and sent Twitter messages urging fellow Republicans to vote for him. But Moore was more effective in harnessing Trump's base than even Trump by convincing voters he would be better at carrying out the president's anti-Washington agenda than Strange.
"Spoke to Roy Moore of Alabama last night for the first time. Sounds like a really great guy who ran a fantastic race," Trump said in a tweet Wednesday. Several of Trump's tweets in support of Strange were deleted from his account Tuesday night, according to ProPublica.
Trump couldn't sway the supporters who gave him 62.9 percent of Alabama's vote in November, raising the prospect that his efforts to support or oppose candidates may mean little in next year's midterm congressional elections. By backing Strange, Trump allied himself with Senate Majority Leader Mitch McConnell, an establishment GOP leader he has repeatedly criticized for failing to orchestrate the repeal of Obamacare.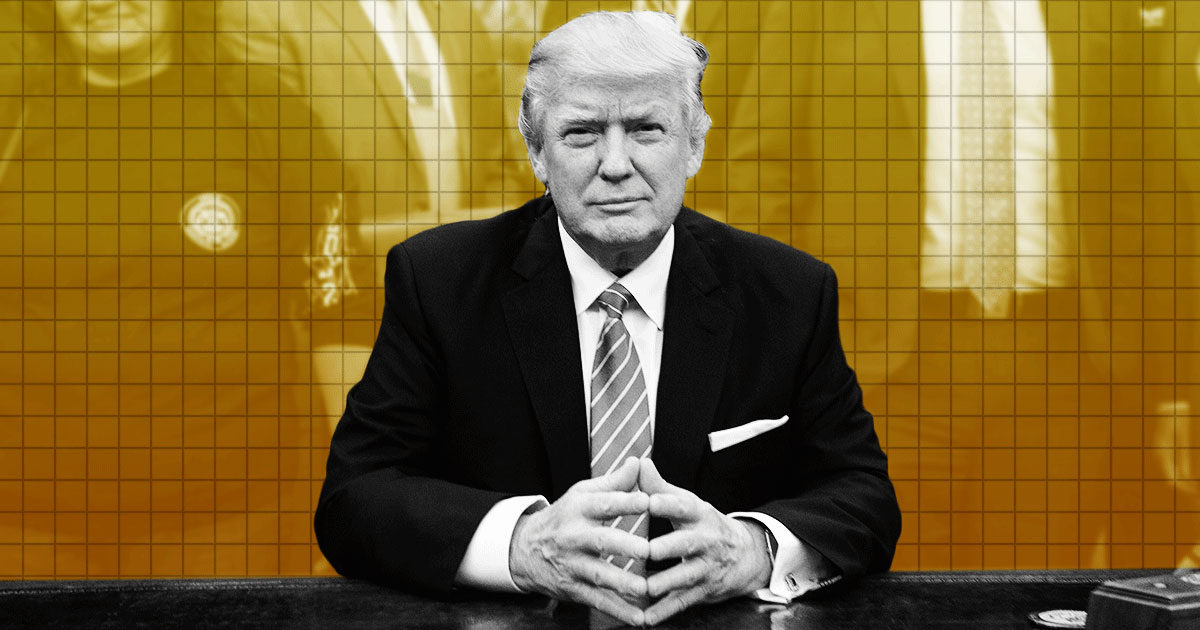 The primary played out as a proxy fight between Trump and his former strategist Stephen Bannon, who backed Moore as the candidate who could best deliver on the Trump campaign's populist promises.
GOP voters sent a strong rebuke to Republican leaders in Congress, with Moore pledging to try to unseat McConnell. Both Moore and Strange said they would back the president's agenda, but Moore has shown a willingness to stray. His spokesman told MSNBC he opposed the GOP's latest health-care legislation, backed by Trump, because it didn't go far enough in undoing Obamacare.
"We have to return the knowledge of God and the Constitution of the United States to the United States Congress," Moore told supporters at his victory party Tuesday night, according to the Associated Press.
Democratic Candidate
Moore will go on to face Democrat Doug Jones, a former U.S. attorney, in a Dec. 12 special election. Jones faces an uphill battle in Alabama, which last elected a Democratic senator in 1990. Strange was appointed to the Senate seat in February when Trump picked former Senator Jeff Sessions to be attorney general.
During a rally for Strange in Alabama on Friday, Trump said that while Strange would have a better chance of beating Jones, the president would campaign for Moore if he won.
After Moore won, Trump deleted several earlier tweets backing Strange and then posted a new message: "Congratulations to Roy Moore on his Republican Primary win in Alabama. Luther Strange started way back & ran a good race. Roy, WIN in Dec!" 

A person close to the president, who asked not to be identified, said Strange's loss would be catastrophic, the consequence of Trump crossing his base by supporting McConnell's handpicked candidate. A super PAC linked to McConnell pumped money into Strange's campaign.
The results could weaken Trump's ability to intimidate Republican lawmakers running for re-election next year.
"There is still a lot of fear of getting crosswise with Trump, and Luther losing will be one more crack in the ice on that," Tim Miller, a GOP strategist who doesn't support Trump. "The fear of being on the wrong side of Trump diminishes a little."
But other Republican operatives sought to play down the impact of Strange's defeat since both candidates support the president. Because Trump never attacked Moore, he can quickly say he knew all along this was one more thing McConnell couldn't deliver, they said.
'Win/Win Situation'
"He's in a win/win situation," said Ed Brookover, who worked as a senior adviser to the Trump campaign. "Moore will be a drain-the-swamp supporter."
Moore is known outside Alabama mostly for being removed twice as chief justice of the state Supreme Court -- in 2003 for refusing to take down a Ten Commandments monument from an Alabama judicial building, and in 2016 for telling state judges not to issue marriage licenses to same-sex couples after the U.S. Supreme Court legalized gay marriage.
Moore drew national attention again on Monday when he pulled a gun out of his pocket at a campaign rally in Alabama to show his support for the Second Amendment.
'NEVER Back Down'
In a fundraising email this month, Moore pledged to "NEVER back down or compromise on our deeply held values and principles." He said he would lead an effort to replace McConnell of Kentucky with "a conservative willing to work with Donald Trump to Drain the Swamp."
If Moore wins in December, he may try to relitigate issues the GOP would rather not discuss. He said at a campaign rally that the Supreme Court's same-sex marriage decision had "destroyed" the definition of marriage and that "polygamy has more basis than same-sex marriage" in U.S. history. He lamented "blacks and whites fighting, reds and yellows fighting" while arguing that only God can unite different groups of Americans.
The president was still working to get Strange elected as late as Tuesday morning. "Luther Strange has been shooting up in the Alabama polls since my endorsement," Trump tweeted the day of the runoff election. "Finish the job - vote today for 'Big Luther.'"
Moore may end up posing a bigger problem for McConnell than for Trump, and he likely would be a wild card in the Senate.
Moore would have the power to significantly delay Senate proceedings. The chamber depends on unanimous consent to operate in a timely fashion, and an objection from even one senator can delay the agenda for days. On occasion, GOP senators such as Rand Paul of Kentucky and Ted Cruz of Texas have ground proceedings to a halt over specific issues, once leading to a government shutdown over a budget dispute.
Bannon, who returned to run Breitbart News after leaving the White House, has sought to fuel anti-establishment sentiment by declaring war against McConnell and other Republican senators he believes don't support the president's agenda strongly enough. He campaigned for Moore.
"Mitch McConnell and this permanent political class is the most corrupt and incompetent group of individuals in this country," Bannon said during a rally for Moore in Fairhope, Alabama, on Monday.
Before it's here, it's on the Bloomberg Terminal.
LEARN MORE