Trump's Le Cirque Fundraiser Pulls in $5 Million
By and
$100,000 donation earned 'VIP access' to the president

Republicans are gearing up to defend congressional majorities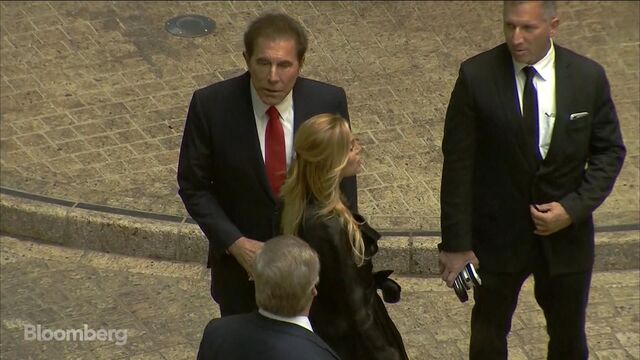 President Donald Trump helped raise an estimated $5 million for Republicans Tuesday as he dined privately in New York with some of the biggest names in U.S. finance and real estate.
About 150 people attended the event at New York's Le Cirque restaurant, according to a Republican National Committee official who requested anonymity because the event was private. Tickets cost a minimum of $35,000, and $250,000 per couple bought access to a private roundtable with the president. A $100,000 donation guaranteed "VIP access" to Trump.
Among those seen entering the venue were casino mogul Steve Wynn; John Catsimatidis, the supermarket billionaire; and Brian Ballard the Florida lobbyist. Also on a guest list for the event were real-estate tycoons Steven Roth and Howard Lorber, Elliott Broidy, Roy Bailey and Stanley Chera, according to a person who saw the list.
Republicans are gearing up fundraising efforts as they prepare to defend House and Senate majorities in next year's midterm elections. The New York dinner was held just before polls closed in the Republican primary for a Senate seat in Alabama, where Trump's favored candidate, Luther Strange, lost to an anti-establishment conservative.
See also: What caused the downfall of New York's glitziest restaurant?
While the president has "made some mistakes," Catsimatidis had said earlier, donors are happy with the change in tone Trump brought to the White House.
"Don't forget, under Obama, the business people and the banks were the enemies of Washington," Catsimatidis said. "The one thing Donald Trump has done is, the business people and banks are no longer the enemies, and the business people feel better and they are making investments."
The president and Republican leaders are unveiling a long-awaited tax plan Wednesday. The proposal would cut individual and corporate tax rates, and repeal the alternative minimum tax and the estate tax, both of which would be a boon for the wealthy.
Trump wasn't the only draw at Tuesday's event. Gary Cohn, his top economic adviser and the former president of Goldman Sachs Group Inc., spoke at the fundraiser, according to guest Bob Wright.
"It was a very positive kind of a thing," Wright, a former NBCUniversal chairman and now a senior adviser at private equity firm Lee Equity Partners LLC, said afterward. According to Wright, Trump praised Cohn, who said last month the administration must do a better job of condemning neo-Nazis.
In a 40-minute talk, the president pledged to revisit a repeal of the Affordable Care Act next year and railed against the National Football League for allowing players to kneel during the national anthem, Politico reported. The president was joined at the event by his sons Eric and Donald Jr. and their wives, Lara and Vanessa.
One Star
Le Cirque, on 58th Street between Lexington and Third avenues, has been popular with Trump since his days as a New York real estate developer. In June 2016, he held a fundraiser there with some of Wall Street's biggest donors, including financiers Carl Icahn and John Paulson, as well as New York Jets owner Woody Johnson, now the U.S. ambassador in London.
Once among the city's most prestigious restaurants, Le Cirque has lately suffered a series of indignities, including being demoted to a single star by the New York Times and exploring early-bird specials to help fill empty tables and pay its bills. The restaurant filed for bankruptcy in March, though the Maccioni family that owns it has no plans to close.
"We are trying to use the bankruptcy laws exactly like the president did," Mario Maccioni said Tuesday evening. "And in our case, hopefully, it will work as well as it did for him."
Trump's companies filed for bankruptcy at least four times.
— With assistance by Jennifer Jacobs, and Max Abelson
(
Corrects to omit references to Ron Perelman and Richard LeFrak, who did not attend, according to spokesmen. Also clarifies that names cited are from a guest list.
)
Before it's here, it's on the Bloomberg Terminal.
LEARN MORE