business
Top Basketball Sports Agency Ensnared in College Kickback Probe
By and
FBI raids ASM's New Jersey headquarters hours after arrests

Raid comes a day after 10 arrested in hoops bribery inquiry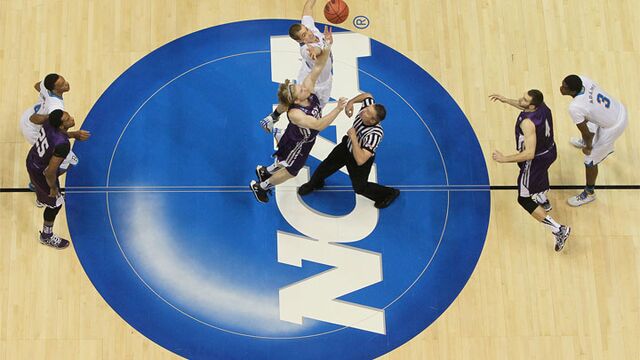 Basketball sports agency ASM Sports is under scrutiny by U.S. prosecutors investigating corruption in college basketball, as FBI agents raided its offices Tuesday just hours after one of its former employees was arrested.
Agents from the FBI's Newark bureau seized the computer of firm founder Andy Miller from ASM's Englewood, New Jersey, headquarters, according to two people familiar with the matter. A spokeswoman for the FBI declined to comment.
The raid comes a day after the Justice Department announced the arrest of 10 coaches, managers, financial advisers and sportswear company representatives after a three-year probe into illicit kickbacks in college basketball. Miller, who hasn't been charged with wrongdoing, has represented professional basketball players for more than 20 years and is one of the industry's top agents.
"I can't really answer anything right now," Miller said in a brief phone call Wednesday morning.
Miller has been involved with more than 26 NBA first round picks and negotiated more than $1 billion in contracts and endorsements, according to his company's website. Kristaps Porzingis of the New York Knicks and Kyle Lowry and Serge Ibaka of the Toronto Raptors are among the stars he represents.
NBA Players
The telephone at ASM's headquarters was disconnected Wednesday, and the office was shuttered.
ASM matches the description of a firm identified in court filings as "Sports Management Company-1." According to court papers, agent Christian Dawkins, one of the 10 charged, was an employee of the firm from 2015 to May 2017, when he was fired.
Dawkins is accused of helping Jim Gatto, then an Adidas AG executive, and college coaches make illegal payments to high school players or their families in exchange for commitments to play for universities sponsored by Adidas, and to sign with Adidas after they turn professional. He was also allegedly part of a scheme to bribe assistant college coaches in exchange for them influencing athletes and their families to hire certain advisers, according to court papers.
Dawkins's lawyer declined to comment on Tuesday after he appeared in court in Manhattan.
In 2012, the National Collegiate Athletic Association banned four elite youth club teams from participating in its summer basketball events -- a key recruiting forum -- for associating with an agent. That agent was Miller, who was found to have emailed the teams' directors offering to "lend support" to the teams, according to CBSSports.com.
Ex-NBA Star Chuck Person Among Coaches Charged in Bribe Scam
The teams were in the Amateur Athletic Union, a coalition of grass-roots leagues that often serve as proving grounds for future stars. An AAU team surfaced in Tuesday's charges.
According to prosecutors, the unidentified team served as a conduit for at least one installment payment this summer of a $100,000 bribe from Adidas to the family of a "Player-10" to steer him to University of Louisville in Kentucky. Dawkins helped set up the transaction starting in May, prosecutors said. Based on the information in the government's filings, Player-10 appears to be Brian Bowen, a five-star recruit and freshman at Louisville. On Wednesday, Louisville's head coach, Rick Pitino, was placed on unpaid leave.
James Gatto, an Adidas executive charged in the case, and another defendant were stymied by paperwork in making the payment directly from the company to the family, according to the complaint. Instead, the initial $25,000 cash installment of the payment -- which was provided by an undercover FBI agent -- was reimbursed with Adidas funds that were wired into the account of an AAU team, and then paid through Dawkins, prosecutors said.
Gatto's lawyer didn't immediately return a call on Wednesday. In a prepared statement, AAU said it would cooperate with the investigation. "Coaches have a unique responsibility as a role model to these youth athletes and, if true, these allegations of bribery are a shameful abuse of that responsibility," it said.
In May 2000, Miller was charged in Alachua County, Florida, with a felony count of unlicensed activity as an athlete agent, court records show. Two months later, prosecutors filed a deferred prosecution, and Miller entered a pretrial diversion. In November 2000, the case was dropped, the records show.
In a report in The New York Times at the time, Miller repeatedly contacted Mike Miller, a guard at the University of Florida, and Tony Harris on the University of Tennessee team, without registering as an agent in either state. Mike Miller told the Florida university that Andy Miller had called him at least 45 times since the previous September, and they spoke at least 20 times.
— With assistance by David Voreacos, and Matthew Townsend
Before it's here, it's on the Bloomberg Terminal.
LEARN MORE