Labour Dented Rapport With Business After a Nice Brexit Start
By
Shadow chancellor's PFI pledge is 'wrong plan at wrong time'

Business lobbies had welcomed Labour's approach to Brexit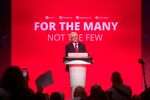 Labour's relationship with business had been warming as the main opposition party adopted positions on Brexit that aligned with U.K. Plc. Then Shadow Chancellor John McDonnell opened his mouth in Brighton.
At the annual party conference in the English seaside town, McDonnell reiterated plans to nationalize railways, energy and water companies and Royal Mail Plc. And he threw in a new measure -- a plan to take back under government control hundreds of so-called private finance initiatives set up to fund infrastructure projects using private capital. 
The corporate backlash was immediate. The Confederation of British Industry called it "the wrong plan at the wrong time," and the British Chambers of Commerce warned it would put investment into a "deep freeze."
As if that wasn't enough damage for the week, the man who would be in charge of the U.K.'s finances if Labour were in power said "we're going to be a radical government" and that that they've played out scenarios where when his party wins, there is a run on the pound.
All this puts back under the microscope a rapport with business that had been improving after a period of mutual suspicion that followed the election of veteran hard-left lawmaker Jeremy Corbyn to the party leadership in 2015. Labour has gradually built bridges with business, best exemplified by a position on Brexit that chimed with key corporate demands.
Courtship Over
"There was a period where the two sides were feeling each other out; trying to understand what the other stood for," BCC Director General Adam Marshall said in an interview at the conference. "When they realized that they could have a polite, respectful conversation and engagement even on areas where they disagree, we started to see a stronger flow of contacts and conversations."
Engagement doesn't always lead to agreement, Marshall explained, and that was exemplified by a lot of what John McDonnell said: "It's not just the big investors, the corporate investors who would be scared by a nationalization sort of approach; smaller and medium-sized firms take cues from these kinds of political positions as well."
Brexit makes it "an uncertain time," CBI Deputy Director-General Josh Hardie said in an interview. "We would not be doing our jobs if we did not say be careful, hang on, that is likely to have a negative impact."
Bill Esterson, a business spokesman for Labour, defended the party's approach, saying the PFIs would be reviewed to find the ones that represent the worst value for money for the taxpayer. The party will try to increase the quantity of medium-sized companies to rival Germany's so-called Mittelstand, while improving roads, rail and public services.
'Investment Opportunities'
"This shouldn't frighten investors because there are still massive investment opportunities in this country: what Britain is going to do with a Labour government is open up for investment in infrastructure," he said.
He also outlined his own self-imposed goal: "I want people in Labour to start talking about business with the enthusiasm that we talk about the National Health Service."
Both Hardie and the BCC's Marshall said it's not all bad. They are happy with the level and frequency of engagement they have with McDonnell and the opposition party's key spokespeople on business, Rebecca Long Bailey, and Brexit, Keir Starmer.
Marshall cited a "commonality" between Labour and business over the need for a longer transitional period to smooth Britain's departure from the European Union than the two years laid out by Prime Minister Theresa May.
Labour has said it should be as long as is needed, business want a three-year transition.
"If you look at our conversations on Brexit, they have been genuinely keen to understand the business perspective," Hardie said of Labour. "Their approach to Brexit certainly shows more signs of having listened to and reflected on the business priorities."
But he said, "we need to get to the same place on state intervention."
Before it's here, it's on the Bloomberg Terminal.
LEARN MORE