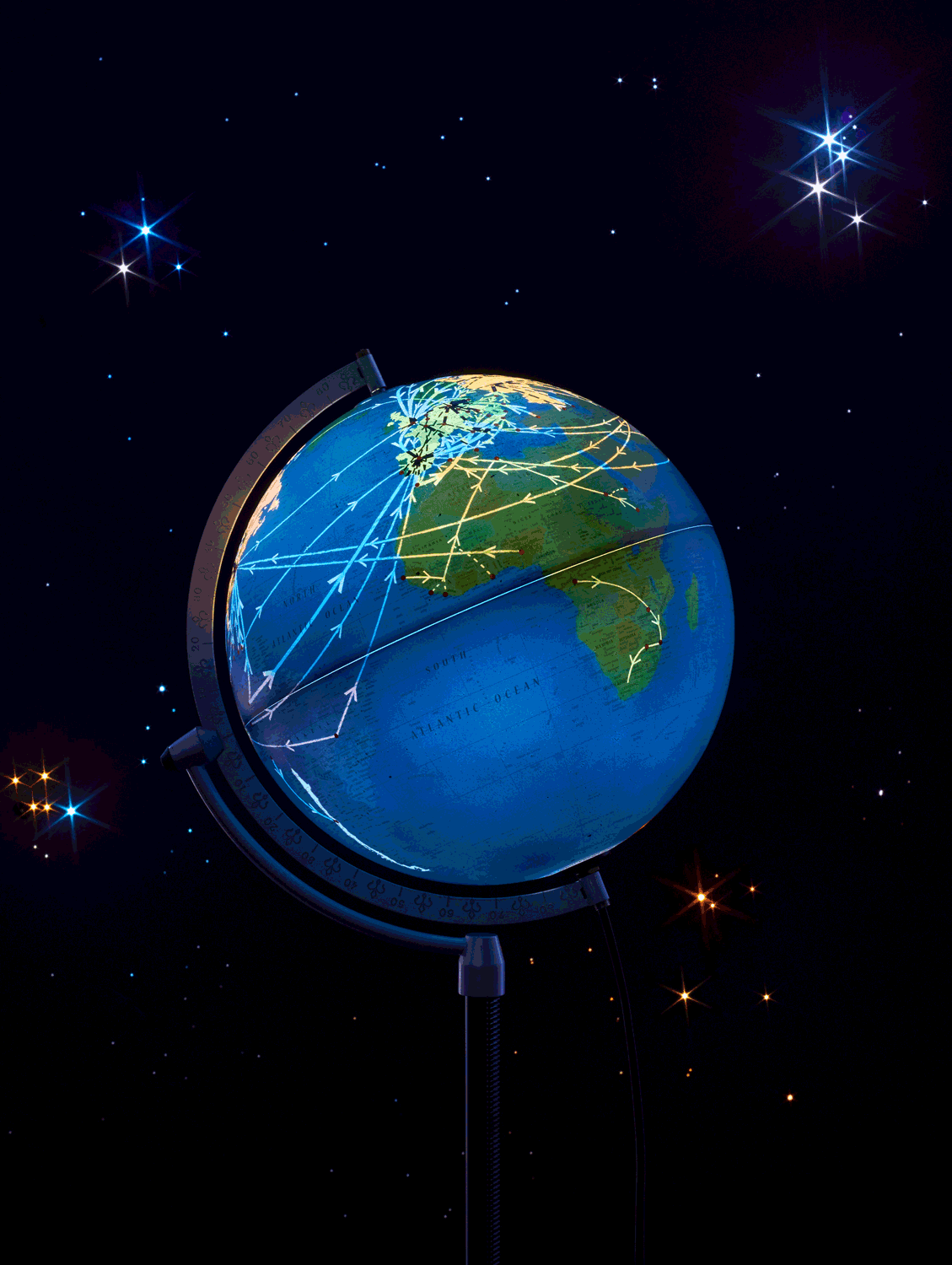 The Characteristics
The artist Ingo Günther first began making data-driven, 12-inch-diameter illuminated globes in 1988 as part of a project he called World Processor. Since then he's designed more than 400, using statistics to create radically different visions of the planet. He's mapped rainfall, citizenship of the world's billionaires, and even where shark attacks have been recorded. For Migration Flows (pictured), Günther used figures from modern refugee crises, starting with the Vietnam War, producing a graphic that shows the scope of mass human movement.
The Competition
At $9,000, the World Processor globes are as much fine-art object as C-suite accoutrement. Larger globes, such as the 33-inch antique-style models from 1-World Globes & Maps, sit on solid mahogany pedestals, come with brass casters attached, and can run as much as $8,500. Some of the best traditional desktop versions are made by the Florence-based company Nova Rico, which supplies the acrylic base that Günther uses for his designs. One of Nova Rico's brands, Räth, sells a $325 illuminated globe that features a meridian of brushed stainless steel.
The Case
Those who want to communicate more about the world than mountains and borders can find many modern infographics in flat, printable, digital formats. The World Processor globes, on the other hand, provide a three-dimensional synopsis of our time. And at a scale of 1 to 42 million, they're made for handling, encouraging those who interact with them to reach their own conclusions. The globes come with a base and meridian to stand upright, but they can be hung on a wall, as well, like a bright orb floating in space. Contact his gallery for more information. World Processor globes; $9,000; brycewolkowitz.com
Before it's here, it's on the Bloomberg Terminal.
LEARN MORE