Five Things You Need to Know to Start Your Day
Get caught up on what's moving markets.
By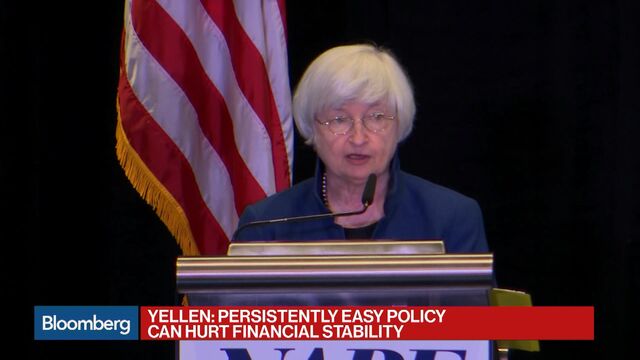 Want to receive this post in your inbox every morning? Sign up here
Yellen's speech lifts dollar and Treasury yields, Trump looks for tax win after health-care flop, and Theresa May has a new headache over Bombardier. Here are some of the things people in markets are talking about today.
December hike
Market-implied odds of a U.S. rate rise before the end of the year have climbed above 60 percent after Federal Reserve Chair Janet Yellen said yesterday that the bank should be "wary of moving too gradually." The Bloomberg dollar index headed for a five-week high and the yield on the 10-year Treasury was at 2.29 percent by 5:50 a.m. Eastern Time. Yellen said that it would be imprudent to wait for inflation to hit the 2 percent target before tightening further, as she heads into what could be her last few months as Fed chair, with Republican Senator Richard Shelby on Tuesday saying he didn't think President Donald Trump would reappoint her.
Tax plan
The White House and GOP officials will launch a tax reform plan later today. It's likely to include a corporation tax cut from 35 percent to 20 percent and a reduction in the top individual rate to 35 percent, while Congress will be allowed to decide whether to impose a higher rate on top earners, according to people familiar with the plan. Following the latest failure to repeal Obamacare, both the president and the Republican Party are seeking a legislative win on this key campaign issue. Washington insiders expect a battle in Congress as lawmakers disagree on key elements of the fiscal plan.
May Bomb[ardier]shell
Despite efforts from British Prime Minister Theresa May to the contrary, the U.S. Commerce Department slapped import duties of 220 percent on Bombardier Inc.'s new jetliner. This matters for May as it's one of the largest employers in Northern Ireland, the home turf of the Democratic Unionist Party upon whom she relies for support in parliament. She said the decision was "bitterly disappointing." It was also a blow for debt investors; the aircraft maker's euro-denominated bonds tumbled by the most in two years after the announcement. 
Markets rise
The S&P 500 Index posted a 0.01 percent gain Tuesday, narrowly avoiding a fourth day of losses. Overnight, the MSCI Asia Pacific ex-Japan Index was little changed, while Japanese stocks fell as more than 1,000 companies traded ex-dividend, pushing the Topix index 0.5 percent lower. In Europe, the Stoxx 600 Index was 0.3 percent higher at 5:50 a.m., with S&P 500 futures gaining 0.1 percent. 
Fed-speak week continues
The embarrassment of riches in monetary pronouncements continues today with Minneapolis Federal Reserve President Neel Kashkari speaking at 9:15 a.m., St. Louis Fed President James Bullard at 1:30 p.m., Governor Lael Brainard at 2:00 p.m., and Boston Fed President Eric Rosengren taking the evening slot at 7:00 p.m. In economic data, U.S. August durable goods orders figures are due at 8:30 a.m., and pending home sales at 10:00 a.m. The oil market will be watching the EIA inventory report at 10:30 a.m. 
What we've been reading
This is what's caught our eye over the last 24 hours.
Before it's here, it's on the Bloomberg Terminal.
LEARN MORE