Corker's Focus on Deficit May Force GOP to Scale Back Tax Cuts
By
Tennessee senator called for $4 trillion in offsets for cuts

Legislation cannot produce a budget deficit, lawmaker says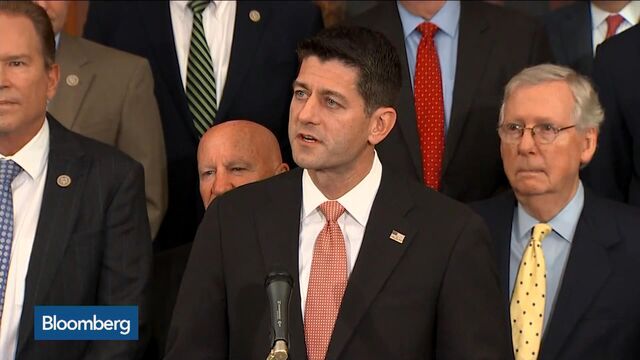 One day after announcing he won't run for re-election, GOP Senator Bob Corker made clear that he could force Republicans to scale back their new plan for tax cuts.
The Tennessee Republican told reporters in Washington on Wednesday that while he supports lower taxes, he won't back legislation that increases deficits -- a certainty under a Republican plan whose outlines were unveiled on Wednesday. To satisfy Corker, lawmakers would have to scrap some planned cuts or eliminate loopholes. They could also cut spending to offset about $4 trillion in reduced revenue.
"With realistic growth projections, it cannot produce a deficit," Corker said. "There is no way in hell I'm voting for it."
Last week, Corker struck a budget deal that would give tax writers room to claim that up to $1.5 trillion in tax cuts will pay for themselves. But he said that the Senate would have to use realistic economic projections to demonstrate that revenue gain to win his vote on the final tax bill.  

Corker said he accepts the Republican argument that tax cuts can spur economic growth, which in turn would lead to additional government revenue. In Congress, that means using so-called dynamic scoring when estimating a tax bill's effect on the federal deficit.
Corker said he would accept the use of dynamic scoring "to a degree." He added, "It's got to be valid."
Senate Republicans need every vote they can get to pass tax cuts with 50 votes in a chamber they control by a 52-48 margin. A tax overhaul is a key promise in President Donald Trump's campaign and the top priority of Republican congressional leaders who are desperate for a legislative win this year. Losing support from Corker, the chairman of the Foreign Relations Committee, would pose a problem for the GOP amid what's likely to be unified opposition from Democrats.
Corker, a Trump backer who has become increasingly critical of the president, said Tuesday he wouldn't seek re-election in 2018, which could make him a more independent voice inside the Senate GOP.
In the statement Tuesday announcing his decision to retire, he said, "I also believe the most important public service I have to offer our country could well occur over the next 15 months, and I want to be able to do that as thoughtfully and independently as I did the first 10 years and nine months of my Senate career."
On Wednesday, he said he expects to have allies in his efforts to prevent the deficit from increasing.
"I've got to believe that there will be at least enough people that care about the deficit to keep something that produces a deficit from becoming law," Corker said. "There may be some people stepping away from fiscal sanity but many of us will not be."
Senate Majority Leader Mitch McConnell of Kentucky supports the GOP plan. Yet in May, he said that any tax changes can't add to the U.S. budget deficit.
Senator Ted Cruz, a Texas Republican, said in a statement Wednesday that "we should pursue unapologetic tax cuts. If tax reform is revenue neutral, it is not a tax cut." Cruz said a cut is the only way to create economic growth "to create booming GDP, and to reduce our debt and deficit."
Before it's here, it's on the Bloomberg Terminal.
LEARN MORE