BofA Seeks Paris Office for Post-Brexit Trading Space
By , , and
Paris move comes after months of debate over EU relocation

Bank executives are also weighing Frankfurt for trading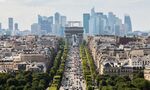 Follow @Brexit for all the latest news, and sign up to our daily Brexit Bulletin newsletter.
Bank of America Corp. is in talks to secure office space in Paris to move part of its trading operations to the French capital as the U.K. prepares its exit from the European Union, according to people with knowledge of the matter.
The American bank is in discussions to lease about 100,000 square feet (9,300 square meters) at 51 rue de la Boetie in Paris's 8th arrondissement, home to the Arc de Triomphe landmark, the people said, asking not to be named because the information is private. Bank of America initially plans to locate around 300 employees in the space which could accommodate about 1,000 people, they said.
Bank of America declined to comment.
The Paris move comes after months of debate among some of the firm's most senior investment bank executives over where to shift traders after Brexit. The discussion pitted fixed-income sales head Sanaz Zaimi and her colleague Bernard Mensah's preference for Paris against equities head Fabrizio Gallo's favor for Frankfurt, Bloomberg News reported last month.
Some managers suggested the firm split trading by asset class between the two cities, people briefed on the talks said at the time. The firm still must decide where its investment-banking hub will be, the people said. Chief Executive Officer Brian Moynihan said in July that the "preferred location" for the main legal entities in the EU is Dublin, where the company already has a foreign banking license.
Global investment banks are coming to decisions on where to put banking operations when the U.K. leaves the EU, expected in 2019. Brexit will likely put an end to passporting, the legal principle that allows banks to service the rest of the bloc from their London hubs.

The building BofA is in talks for is being modernized by developer Poste Immo, said the people. It's close to where HSBC Holdings Plc plans to put its investment banking hub in continental Europe. The London-based lender, which has a French retail bank, has said it would likely move about 1,000 people to Paris. French officials have been busy trying to woo banks with proposals to relax payroll taxes for the highest earners. President Emmanuel Macron last week approved changes to the French labor code, easing hiring and firing rules and completing his first economic reform after four months in office.
Poste Immo is marketing the space, a spokesman said, declining to elaborate.
Morgan Stanley, Citigroup Inc., Standard Chartered Plc and Nomura Holdings Inc. picked Frankfurt for their EU headquarters, and Goldman Sachs Group Inc. and UBS Group AG have been weighing the same choice.
Altogether, London could lose 10,000 banking jobs and 20,000 financial services positions because of Brexit, according to estimates from Brussels-based think tank Bruegel.
— With assistance by Gavin Finch
Before it's here, it's on the Bloomberg Terminal.
LEARN MORE