Balance of Power: Women Take the Wheel as Saudis Look to Future
By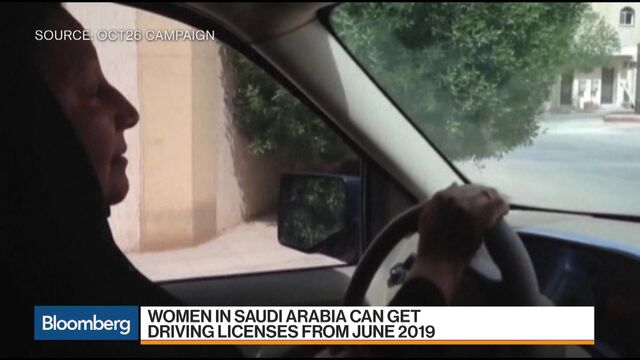 The architect of Saudi Arabia's modernization effort has implemented one of his boldest moves yet: Ending the country's status as the only one in the world that bans women from driving.
There's little doubt Crown Prince Mohammed Bin Salman is behind the decision to get women behind the wheel. What's less clear is how the cultural bomb will be received by a society that's always had curbs on women and practices an austere version of Islam. Both cheers and jeers were heard in the streets of Riyadh last night.
Authorities have given themselves 10 months to implement the measure, no small task given it'll flip transportation in the country on its head, from the types of vehicles sold to how they're driven.
But with the era of oil coming to an end, Saudi rulers are plotting a different course — you can't reboot an economy with half the workforce stuck at home and you won't attract investments if you're forever being held up as the benchmark for institutional oppression.
And while the move will be resisted by the conservative heartland, Prince Mohammed is betting that many of his subjects are hungry for change. The rest may not have a choice; it's an absolute monarchy after all.

Sign up to receive the Balance of Power newsletter in your inbox, and follow Bloomberg Politics on Twitter and Facebook for more.
Global Headlines
Voters rebuff Trump | Donald Trump sided with the Republican establishment in its first Senate showdown with an insurgent conservative since his election. He lost, fueling fears the president will be a liability in next year's midterms. Roy Moore, who brandished a gun at a rally to support the Second Amendment, defeated incumbent Luther Strange, capturing almost 55 percent of the vote in the Alabama primary runoff.
Tax plan rollout | The long-awaited framework proposes cutting the top individual rate to 35 percent but leaves Congress to decide whether the highest earners get taxed even more. Trump plans to tout the proposal in Indiana as Republicans unveil it today, marking the start of a pitched battle over the biggest attempt to revamp the tax code in a generation.
North Korea taboo | As Kim Jong Un and Trump trade threats, analysts are gaming out worst-case scenarios — including a regime collapse that triggers a race to secure Pyongyang's nuclear weapons. Still, a world without Kim is something the major powers have yet to discuss, and mutual suspicion between China and the U.S. means there's little contingency planning in the event their troops meet each other inside North Korea.
Manafort's motives | Former Trump campaign chairman Paul Manafort's offer last year to privately brief a Russian oligarch close to President Vladimir Putin was part of a personal mission to resolve a costly dispute over a failed business deal, a Bloomberg investigation has found. It raises fresh questions about Manafort's conduct, which has attracted close scrutiny from special counsel Robert Mueller.
Indian anger | Farmers across India are protesting against Prime Minister Narendra Modi, who's struggling to deliver on his 2014 election vow to raise farm wages and add 10 million jobs a year. With more big state polls coming ahead of a national vote in early 2019, farmers are a key bloc Modi needs to keep on his side.
And finally... His image is emblazoned on scarves, T-shirts and comic books, and his adoring fans chant his name to a White Stripes song. U.K. Labour leader Jeremy Corbyn has gone from a left-wing election punchline to the standard bearer of a socialist revival in Britain. He'll claim the mantle of a "government in waiting" today as he tells his supporters he's ready to wrest power from Theresa May's Conservatives. The U.K.'s answer to Bernie Sanders will be banking on the devotion of fans that has become so strong that some political commentators liken it to a personality cult.

Before it's here, it's on the Bloomberg Terminal.
LEARN MORE