Moore Wins Alabama GOP Senate Primary
By
Roy Moore campaigned against Senate Majority Leader McConnell

Ten commandments candidate faces Democrat in December election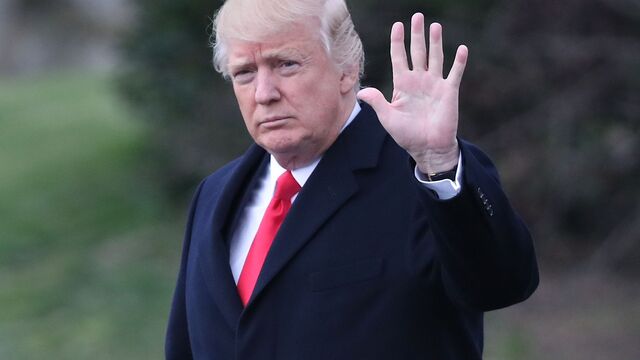 Alabama's GOP voters backed Roy Moore, a U.S. Senate candidate who campaigned against the chamber's Republican leader and brandished a firearm at a rally to show his support for gun rights -- even after President Donald Trump urged voters to elect Moore's opponent.

Moore, a former chief justice of the Alabama Supreme Court, won 54.6 percent of the vote Tuesday in a Republican primary runoff election compared to 45.4 percent for incumbent Senator Luther Strange, according to the Associated Press. Moore will face Democrat Doug Jones, a former U.S. attorney, in a Dec. 12 special election to fill the seat previously held by Senator Jeff Sessions, who became Trump's attorney general.
Moore's victory is a blow to Trump and Senate Majority Leader Mitch McConnell, whose efforts to boost Strange's campaign failed. A super-political action committee allied with McConnell spent $5 million helping Strange and attacking Moore.
Moore, 70, who pledged to be an uncompromising conservative and to support Trump's agenda, campaigned against McConnell, saying the senator from Kentucky is trying to preserve the status quo and work against the president. Steve Bannon, Trump's former chief strategist, campaigned for Moore.
Trump held a rally for Strange and had tweeted on his behalf, saying he stood a better chance of defeating Jones.
"Congratulations to Roy Moore on his Republican Primary win in Alabama. Luther Strange started way back & ran a good race. Roy, WIN in Nov," Trump said on Twitter Tuesday night after it became clear Strange had lost.
If Moore wins the December election, McConnell will have to work with a senator who has called for him to step down and who has shown a willingness to upset political order -- a threat to the routine of the Senate, which runs on unanimous consent and precedent.
Even though Moore said he'd back Trump's agenda, a spokesman for the candidate told MSNBC that he opposed the latest GOP health-care plan designed to replace Obamacare, saying it didn't go far enough to undo President Barack Obama's signature legislation.
Moore is known outside Alabama mostly for being removed twice as chief justice of the state Supreme Court -- in 2003 for refusing to take down a Ten Commandments monument from the Alabama judicial building, and in 2016 for telling state judges not to issue marriage licenses to same-sex couples after the U.S. Supreme Court legalized gay marriage.
Moore drew national attention again on Monday when he pulled a gun out of his pocket at a campaign rally to show his support for the Second Amendment.
Jones faces an uphill battle in Alabama, which last elected a Democratic senator in 1992 and supported Trump with 62.9 percent of the vote.
The Alabama race shows the weak impact of the president's endorsement.
"I'm taking a big risk because if Luther doesn't make it they're going to go after me," Trump said during a Sept. 22 rally for Strange in Huntsville, Alabama.
Strange was hurt by his association to former Governor Robert Bentley, who appointed him to Sessions's seat in February. Bentley resigned in April and pleaded guilty to misdemeanor campaign-finance law violations. As Alabama's attorney general, Strange headed the office that investigated Bentley.
"From the beginning of this campaign, my priority has been serving the people of Alabama," Strange said in a statement. "Tomorrow I will go back to work with President Trump and do all I can to advance his agenda over the next few weeks."
Before it's here, it's on the Bloomberg Terminal.
LEARN MORE