Trump Says He'll Survey Puerto Rico Hurricane Damage Next Tuesday
By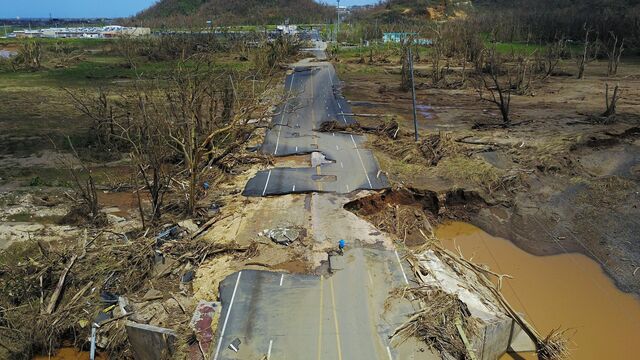 President Donald Trump said he'll travel to Puerto Rico next Tuesday to survey damage from Hurricane Maria as officials from the U.S. territory plead for aid to recover from the disastrous storm.
Puerto Rico needs immediate help from Congress to avoid a "humanitarian crisis" after Hurricane Maria and prevent "thousands if not millions" of residents from flocking to the U.S. mainland, Governor Ricardo Rossello said Tuesday.
"There needs to be unprecedented relief for Puerto Rico so that we can start the immediate effort right now with deployment of resources but also the mid- to long-run recovery," Rossello said on MSNBC.
Trump told reporters Tuesday that the federal government is "doing a really good job" in relief efforts so far and has shipped "massive amounts" of food and water. He said the federal government is landing food, water and supplies in the territory on an hourly basis even though its airports are "broken."
Trump said that the federal government has been able to send relief supplies to Texas by truck in the wake of Hurricane Harvey, but in Puerto Rico, "the difference is this an island sitting in the middle of an ocean and it's a big ocean."
Trump said next Tuesday is the earliest he can visit the U.S. commonwealth because of relief efforts.
"Puerto Rico is very important to me, and the people are fantastic people," Trump said. "I grew up in New York so I know many people from Puerto Rico."
Before it's here, it's on the Bloomberg Terminal.
LEARN MORE