Siemens to Merge Rail Operations With French Rival Alstom
By and
Franco-German combination aims to counter Chinese competition

Deal gets political backing in France, leaves Bombardier out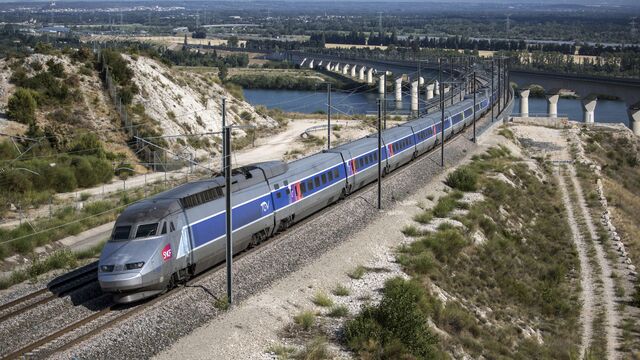 Siemens AG and Alstom SA agreed to merge their rail businesses in a deal that brings together former arch-rivals from Germany and France to create a European transportation giant aimed at countering competition from China.
Siemens will transfer its business making train and transit cars and signaling equipment to Alstom in exchange for a stake of just above 50 percent in the enlarged company, according to a statement. The renamed Siemens Alstom, with sales of about 15.3 billion euros ($18 billion), will remain based in the Paris area. Alstom Chief Executive Officer Henri Poupart-Lafarge will keep his position and the chairman will be named by Siemens.
"We need to strengthen our ability to compete," Siemens CEO Joe Kaeser said in a video about the tie up, which the companies call a merger of equals. "A dominant player in Asia has changed global market dynamics."
The combination will give the German company control of an icon of French industry that developed the high-speed TGV trains that zip across the countryside at upwards of 300 kilometers an hour (186 miles per hour). President Emmanuel Macron's government backed the deal after receiving assurances on jobs, and it comes just days after German Chancellor Angela Merkel was reelected on a platform of closer European ties. Capping years of speculation in the industry about the need for consolidation, the tie up could mirror the emergence of European planemaker Airbus in the 1970s that went on to become the biggest competitor to Boeing Co.
Paris Listing
Shareholders in Alstom will receive two special dividends, one of 4 euros a share and the other of up to 4 euros a share. One is to compensate them for giving up control of the company, and the other to be paid from the proceeds of Alstom's put options for joint ventures it has with General Electric Co.
Click here to set a reminder to watch the Siemens-Alstom joint news conference live
The companies expect annual synergies of 470 million euros and Alstom will have to pay a 140 million-euro break up fee if it decides to cancel the transaction. They are aiming to close the deal by the end of 2018. The new entity will have an order backlog of 61.2 billion euros.
Alstom shares surged 8.5 percent to 36.50 euros at 9:05 a.m. in Paris. The stock had surged 29 percent this year through Tuesday, giving the company a market value of 7.4 billion euros. Siemens, which also makes products including power-generation and health-care equipment, rose 1 percent to 117.70 euros. The shares had fallen 0.2 percent for a value of 99.1 billion euros.
The new company will remain listed on the Paris stock exchange, while Siemens's mobility solutions business will have headquarters in Berlin, and rolling stock in the Paris area. Jochen Eickholt, head of Siemens Mobility, will assume an "important responsibility" in the merged company, the companies said.
Bitter Rivalry
Siemens Alstom, which will have about 62,000 employees, will become the second-largest maker of rail cars and locomotives after China's CRRC Corp. Years of bitter rivalry between the European companies created animosity in the past so a deal between them was unexpected until last week, when Bloomberg reported talks. These came alongside the German company's negotiations to join forces with Canadian competitor Bombardier Inc. through two joint ventures.

The deal is a "strategic move that has to be seen against the backdrop of increasing international competition over the past decade," Guenther Hollfelder, an analyst at Baader Helvea, wrote in a note. The terms are "less unfavorable" for Siemens shareholders than expected.
The tie up between the European rivals will effectively leave Montreal-based Bombardier out in the cold, and represent a new hurdle for its turnaround plans. While cross-border German-French deals remain relatively rare, PSA Group this year acquired the European operations of General Motors Co. which includes the German brand Opel.
It was Siemens that first approached Alstom about combining, with talks starting several months ago, according to a person familiar with the matter who asked not to be identified, adding that French and German government officials discussed the possibility as early as May.
The French government said it won't exercise an option in October to acquire the 20 percent stake in Alstom that it borrowed from Bouygues SA. The construction company has pledged to hold on to its shares until the transaction is approved by shareholders, or until July 2018 at the latest, the companies said.
When the deal closes, Siemens's stake in the combined company will be just above 50 percent, Poupart-Lafarge said Wednesday on a conference call with analysts. The French state backed the deal based on commitments made by Siemens, including a pledge to not lift its stake in Alstom above 50.5 percent for four years after closing. The German company will get warrants allowing it to acquire Alstom shares representing two percentage points of its share capital that can be exercised at the earliest four years after the deal is completed.
"This is good news for Alstom, good news for workers and good news for industry in Europe," French Finance Minister Bruno Le Maire said Wednesday in Paris.
The deal will add to Siemens's earnings two years after closing, with double-digit profit margins expected to kick in by 2020, the company said in a presentation for analysts.
Bad Blood
In combining with Alstom, Siemens is rekindling part of an offer it made in 2014 during a takeover battle with General Electric Co. for Alstom's energy assets. Siemens Chief Executive Officer Joe Kaeser, working with two Japanese companies, unsuccessfully proposed an asset swap for the French company's turbines business in exchange for its own ailing train operations.
At the time, Siemens's plan envisioned merging the companies' train operations and -- as a bonus thrown in at the eleventh hour -- creating a rail-signaling joint venture that would have been controlled by the German company. In the end, GE won the tussle and sold its rail signaling business to the French company, which has been focused on trains ever since.
The battle for Alstom created bad blood between Kaeser and his former French counterpart, Patrick Kron, with the two executives still trading barbs a year later.
Now, the companies' tie up comes after Chinese dominance of the train market has solidified. CRRC controls about half of the rail car and locomotive market, while Siemens and Bombardier each have about 12 percent and Alstom around 11 percent, according to Desjardins Capital Markets. The Chinese company was formed in 2015 in a merger of the country's two main regional train manufacturers and it has won rail orders in U.S. cities such as Boston, Philadelphia and Los Angeles.
'Sticking Points'
Alstom, Siemens and Bombardier have long collaborated on contracts so some operations may have to be untangled. Alstom and Bombardier won a 3.3 billion-euro contract to supply double-decker cars to the Belgian national railway through 2021 and are working together on trains for the Paris region's commuter network and Montreal's subway system.
"Sticking points" to the deal could be getting antitrust approval, which has always been cited as a concern by Alstom's CEO Poupart-Lafarge, according to James Stettler, an analyst at Barclays in London. There will also be "some painful discussions with the respective governments and unions as to where capacity is taken out," he said.
Poupart-Lafarge said on the call with analysts that he's confident the deal will win approval from European Union regulators.
— With assistance by Francois De Beaupuy, Eyk Henning, Aaron Kirchfeld, Helene Fouquet, Gregory Viscusi, Frederic Tomesco, and Mark Deen
Before it's here, it's on the Bloomberg Terminal.
LEARN MORE