Scana Says S.C. Is Seeking Criminal Probe of Nuclear Project
By and
Cost recovery for project 'constitutionally suspect;' A.G.

Utility owner intends to cooperate with all government probes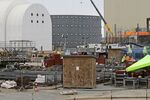 South Carolina's attorney general called for a criminal probe into Scana Corp.'s handling of the canceled V.C. Summer nuclear expansion project, adding that it may not be entitled to charge customers for the plant.
Attorney General Alan Wilson was joined by state legislators in calling on the South Carolina Law Enforcement Division to open a probe, Scana said Tuesday in a filing. Separately, Wilson questioned the state law that allows utilities to recover the costs of unfinished or abandoned power plants. Scana said it will fully cooperate "with any potential government investigation."

Scana and its partner, state-owned utility Santee Cooper, halted construction on two new reactors at the Summer plant after costs ballooned to over $20 billion, a decision that leaves Southern Co. as the only utility building a nuclear plant in the U.S. Scana had asked utility regulators for permission to recover $4.9 billion in expenses for the project before withdrawing the request in August to give officials more time for review.
"Our citizens have paid billions of dollars and got absolutely nothing from it but a money pit," Wilson said in an emailed statement. The law "at the heart of the failed nuclear reactors" is "constitutionally suspect."
Cayce, South Carolina-based Scana fell as much as 3.4 percent to $54.40 in intraday trading in New York.
Tuesday's announcements follow the disclosure last week that the U.S. Attorney's office in South Carolina is carrying out a grand jury probe of Santee Cooper. Scana said last week it had received a subpoena from the U.S. Attorney seeking information about the project.
South Carolina Governor Henry McMaster was among those opposed to scrapping the project, saying that the reactors are still worth finishing. 
"The politics has reached a fever pitch," Paul Patterson, a New York-based utility analyst for Glenrock Associates LLC, said by phone Tuesday. "The operative word is 'uncertainty."'
Before it's here, it's on the Bloomberg Terminal.
LEARN MORE