Quebec Attacks Boeing for 'Predatory' Trade Claim on Bombardier
By , , and
U.S. company trying to push rival out of business, Leitao says

Commerce Department ruling expected later Tuesday in jet case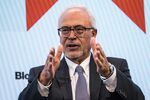 Quebec's top finance official accused Boeing Co. of using its trade complaint against Bombardier Inc. to try to crush competition from Canada's biggest aerospace company.
"Boeing is behaving in a predatory way," Quebec Finance Minister Carlos Leitao said Tuesday at the Bloomberg Canada Fixed Income Conference in New York. "Boeing is clearly trying to drive Bombardier out of business. That's not fair."
Bombardier is girding for a preliminary ruling by the U.S. Commerce Department, expected later in the day, on whether tariffs should be imposed on the planemaker's all-new C Series jet. In a complaint to trade authorities, Boeing accused Montreal-based Bombardier of selling the single-aisle aircraft in the U.S. at "absurdly low" prices while benefiting from unfair government subsidies in Canada.
Quebec invested $1 billion for a 49.5 percent stake in the C Series program last year. Leitao said Quebec would continue to support Bombardier "because it's also our company now. We have a vested interest in continuing to support the company."
Boeing's trade case follows a well-established process for settling commercial disputes, Daniel Curran, a spokesman for the Chicago-based planemaker, said via email. While Boeing welcomes competition, aircraft sales "must respect globally accepted trade law," he said. 
'Classic Case'
"Bombardier has sold airplanes in the U.S. for millions of dollars less than it has sold them in Canada, and millions of dollars less than it costs Bombardier to build them," Curran said. "This is a classic case of dumping, made possible by a major injection of public funds."
Bombardier was unchanged at C$2.15 at 1:47 p.m. in Toronto, following four days of declines. Boeing slid less than 1 percent to $253.60.
Delta Air Lines Inc. cited Quebec's support as a major reason for its decision to order at least 75 of the C Series jets in April 2016. In testifying in favor of Bombardier at International Trade Commission hearings earlier this year, the Atlanta-based carrier said it never even considered Boeing models before making the purchase. As a result, Leitao said he doesn't expect Boeing to successfully prove its business has been harmed.
Bombardier can also count on the backing of Canada's federal government. Innovation Minister Navdeep Bains reiterated the government's pledge not to buy Boeing Super Hornet fighter jets as long as the U.S. planemaker is targeting Bombardier.
"We want to vigorously defend our position and defend the aerospace industry in Canada," Bains said in a telephone interview from Italy, where he is attending Group of Seven meetings. "It's still early stages. We still want to pursue a positive outcome with the trade dispute with Boeing."
Before it's here, it's on the Bloomberg Terminal.
LEARN MORE