Puerto Ricans' Plea for Aid From Uncle Sam: We're Americans, Too
By
Island's governor fears 'mass exodus' if crisis isn't tackled

Trump says he'll visit the commonwealth next Tuesday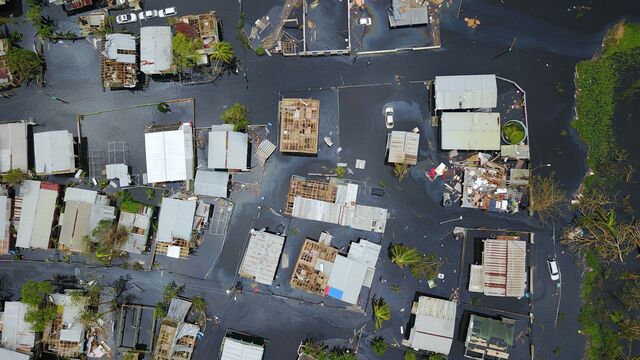 After Hurricane Irma, Floridians never felt compelled to remind the federal government that they were U.S. citizens. Nor did Texans after Harvey.
But that's just what Governor Ricardo Rossello and the commonwealth's government have done, over and over, in the wake of Hurricane Maria. "There needs to be unprecedented relief for Puerto Rico so that we can start the immediate effort right now," Rossello said Tuesday on MSNBC.

Puerto Rico, an island of 3.4 million American citizens without a vote in Congress, is lobbying Washington for what could be billions in funding to rebuild its infrastructure, including its decimated energy grid. And it's doing so amid an already costly hurricane season.
The island was crawling with 10,000 federal relief workers who were conducting search-and-rescue missions, helping bring electricity to hospitals, and providing aid packages, baby food and more. But with the Washington visitors on hand, Rossello's team missed no opportunity to remind them of why Puerto Rico -- mired in bankruptcy and ill-equipped financially to go it alone -- shouldn't become an afterthought.

Trump Visit
President Donald Trump said he will travel to Puerto Rico to survey damage. He told reporters that the federal government is "doing a really good job" in relief efforts and has shipped "massive amounts" of food and water. He said the federal government is "landing food on an hourly basis" even though airports there are "broken."
Trump said next Tuesday is the earliest he can visit because of relief efforts. "Puerto Rico is very important to me," he said. "I know many Puerto Ricans, and we have to help them."
At the San Juan airport Tuesday, there were signs of exodus. People waiting for standby flights have been camped out for days. One mother with two infants in car-seat carriers broke into tears, while desperate tourists took out smartphones to film video and demand answers on why there wasn't water and other provisions, outside of the expensive airport shops.
Yamira Feliciano Ribera, 40, was there with a group of six relatives and friends, including two children, ages 1 and 3. She said they'd slept on the hard floor using luggage for pillows.
"We want to get out of Puerto Rico for a better situation," she said, doling out Cheerios to the children. "We're without water, without AC, without cash."
The president's pledge to help came after criticism from some corners of Congress, with Representative Adam Smith, the ranking Democrat on the House's Armed Services Committee, blasting the administration's response as "wholly inadequate."
But the island's leaders have been effusive. The visitors were "a clear indication that the administration is committed" to Puerto Rico, Rossello said.
There was still plenty to do. Rossello said he requested a temporary waiver on the cost-sharing between FEMA and the commonwealth. Normally Puerto Rico would commit 25 percent of the recovery funds, but it was already in fiscal straits and had filed for a form of bankruptcy protection before the disaster. After a disastrous debt binge, enabled by tax breaks that for decades had investors clamoring for its securities, Puerto Rico owes $74 billion.
Rubio said Monday that Puerto Rico should have access to low-interest loans, and Rossello later said that could be through the Fed or Treasury Department. On Tuesday, House Speaker Paul Ryan and Senate Majority Leader Mitch McConnell vowed to provide the assistance the island requires. "They need our help and they are going to get our help," Ryan told reporters.
Puerto Rico Debt Crisis: Making Sense of the Debacle
Jones Act
Jenniffer Gonzalez, Puerto Rico's nonvoting congressional representative, said in an interview Monday that Puerto Rico sought an extended waiver on the Jones Act, a century-old set of rules that many say make imports more costly by requiring most good to be brought in by U.S. ships. But the Trump administration doesn't plan to waive the act. She's also spoken with House Speaker Paul Ryan about having the Federal Emergency Management Agency temporarily cover the full cost of the damage, instead of the typical 75 percent.

Puerto Rico, which came under U.S. control in 1898 after the Spanish-American War, isn't a state. The governor and his ex-governor father, Pedro Rossello, have both advocated statehood, and the younger Rossello recently staged and won -- albeit with a boycott from the opposition -- a referendum on the issue. Some Puerto Ricans would still prefer to become a sovereign country, while others are happy with the status quo. The issue inspires fiery debates on the island, and no wonder: Puerto Ricans have fought in the U.S military since World War I.
Rossello reminded his visitors Monday of the role Puerto Rico played as an aid hub after Irma, when the U.S. Virgin Islands were badly hit.
And he sent his visitors home with a message for the rest of Washington:
"Let them know that we're committed U.S. citizens, proud U.S. citizens, who helped others when they were going through difficult times, not more than 10 days ago," he said. "Now it's time to help Puerto Rico back."
At San Juan's airport, some residents were skeptical. Natalia Porrata, a 23-year-old college student from Caguas who said her municipality was destroyed, noted that federal forces were visible around the capital but less so in lightly populated areas. She questioned whether Puerto Rico would get the help it needs.
"The U.S. has never really given us the attention it gives the states," said Porrata, who was hoping to catch a flight to Paris via New York with two friends for a hurricane reprieve. "And I don't think this will be any different."
— With assistance by Michelle Kaske, and Jennifer Jacobs
Before it's here, it's on the Bloomberg Terminal.
LEARN MORE