House Panel Receives Classified Briefing on Kaspersky
By
Russia-owned software company suspected of intelligence links

U.S. government banned use of its anti-virus software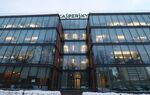 The House Science Committee received a classified briefing Tuesday related to Kaspersky Lab Inc., according to a person familiar with the matter who spoke about the Moscow-based security firm believed to have links to Russian intelligence.
The discussion dealt with recent news and U.S. government actions regarding the Russian-owned company's anti-virus software.
The person wouldn't discuss details from the meeting or identify the briefers, citing the classified nature of the session. Several lawmakers also declined to comment.
Earlier this month, the government banned federal agencies from using Kaspersky Lab software. In doing so, the Department of Homeland Security cited concerns about ties between certain Kaspersky officials and Russian intelligence and other government agencies, and potential compromises to U.S. national security.
On Sept. 14, the committee sent a letter to Eugene Kaspersky, the company's chief executive officer, asking him to appear at a hearing on Sept. 27. At the time, the committee said it wanted to conduct oversight of the cybersecurity posture of the U.S. government and examine how much it relied on Kasperky products. But the hearing was postponed and hasn't been rescheduled.
The committee also sent a letter back in July to federal agencies requesting information on computers, systems and data that may be accessible to Kaspersky Lab from each agency.
Kaspersky has denied "inappropriate ties with any government" and criticized the U.S. decision as "based on false allegations and inaccurate assumptions, including claims about the impact of Russian regulations and policies."
Before it's here, it's on the Bloomberg Terminal.
LEARN MORE