Bitcoin Futures Fail to Get Traction on Biggest Exchange for Now
By
'Bitcoin is very nascent right now,' CME president says

CME is ceding territory to crosstown Chicago rival CBOE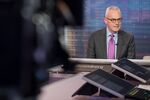 When CME Group Inc. introduced a bitcoin price index last year, it looked like the world's biggest exchange owner was taking an initial step toward creating futures on the digital currency.
It just dashed those hopes.
"I really feel that bitcoin is very nascent right now," Bryan Durkin, president of Chicago-based CME, said in an interview on Bloomberg Television. "I really don't see us going forward with a futures contract in the very near future."

CME is ceding territory to its rival a little more than half a mile away in downtown Chicago, CBOE Holdings Inc., which plans to introduce bitcoin futures in the fourth quarter or early next year.
Futures could draw in professional market makers -- though probably not JPMorgan Chase & Co. traders after Chief Executive Officer Jamie Dimon said he'd fire any employee trading bitcoin for being "stupid" -- to the cryptocurrency realm, providing much-needed liquidity. Such traders need derivatives so they can hedge their positions.
CBOE teamed up in August with Gemini Trust Co. -- the startup created by the Winklevoss twins made famous by the 2010 Facebook film "The Social Network" -- with the plan to offer bitcoin futures.
"Like it or not, people want exposure to bitcoin," said Ed Tilly, CBOE's chairman and CEO, said Sept. 12 at a Barclays conference in New York.
With No 'JPMorgan of Bitcoin,' Exchanges Struggle to Win Trades
Quotes from this Article
Before it's here, it's on the Bloomberg Terminal.
LEARN MORE