Corbyn Says His Euphoric Labour Party Is Ready to Run U.K.
By and
Leader memorabilia, Corbyn chants mark Brighton conference

Activists 'on a high' after unexpectedly good June election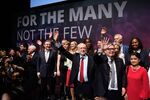 Labour is ready to rule, Jeremy Corbyn will tell activists at the end of a conference that cemented the main opposition leader's position as the standard bearer of a socialist revival in British politics.
The convention hall and meeting rooms across Brighton, southern England, echoed with chants of his name as scarves, T-shirts and comic books for sale celebrated the politician-cum-pop-icon and his completion of the left-wing project to wrest back control of the 117-year-old party after its shift to the center under Tony Blair.

"We have become a government-in-waiting. And our message to the country could not be clearer: Labour is ready," Corbyn will tell delegates Wednesday, according to extracts from his speech released by his office. "Against all predictions, in June we won the largest increase in the Labour vote since 1945 and achieved Labour's best vote for a generation. It's a result which has put the Tories on notice and Labour on the threshold of power."
Click here to watch the speech live.
The message will be one of "responsible government," the party's education spokeswoman, Angela Rayner, told the BBC. As an example, she said that while Labour would "love to" promise state workers a 5 percent pay rise, "we cannot do that at the moment."
Though Corbynism was dismissed as a personality cult a year ago, a better-than-expected result in June's election against Prime Minister Theresa May's Conservatives has all but silenced critics.
He has now been embraced as the future of a party that had struggled to forge an identity after it lost power in 2010. Policy detail this week has been light, Brexit largely swept under the rug and some proclamations alarming. Yet the mood is one of revival and of belief that Labour's time has come.
Are You High?
Speaker after speaker realized that the easiest way to win delegates in the conference hall was to pledge their allegiance. When health spokesman Jon Ashworth addressed them on Tuesday afternoon, it wasn't just a Labour government he promised, it was a "Jeremy Corbyn Labour government."
"It feels like one of those mega-churches in the U.S., it's a kind of evangelical enthusiasm that does seem to have overtaken the party," said Tim Bale, professor of politics at Queen Mary, University of London, after attending a session in the hall. "They're on a high; they clearly believe the general election was a massive success, despite finishing 60-odd seats behind the Tories; they're united in their belief they'll win next time around."
Read more: How May's snap election delivered a hung Parliament
By getting the young out to vote, Corbyn has achieved a feat many in British politics believed was impossible. Before June's election, it was assumed that support among students, sealed with a promise to abolish tuition fees, would not turn into votes. 
But tied with unequivocal backing from labor unions and older activists who pounded the streets to campaign because they felt their party had been returned to them, Labour managed to erase May's majority.
Since then, Corbyn has kept touring the country in front of cheering crowds, pressing his anti-austerity message.
'Oh, Jeremy Corbyn'
A speech to tens of thousands at the Glastonbury music festival introduced television viewers to a chant -- to the tune of the White Stripes' "Seven Nation Army" -- that has followed the leader wherever he goes and was available on a red-and-white scarf at the conference.
"The crowd at Glastonbury's silent disco began to sing: 'Oh, Jeremy Corbyn,'" deputy leader Tom Watson, who has clashed in the past with his boss, told delegates as he recalled another event at the festival. "And as they sang, I realized it really is better to be loved than to be feared. And Jeremy has shown us that it's possible."

The quasi-religious fervor surrounding the leader makes some members uncomfortable, though his supporters see the opportunity it gives to complete the socialist agenda he has championed since the 1980s, when he worked alongside Tony Benn in his failed attempts to take over the party.
"I support not the cult of Corbyn, but the fact that his policies are coming through: more democracy for the party, and more socialist principles," Ron Cooper, 67, a retired management consultant, said outside the hall. "He represents more traditional Labour values. The party's bigger than any individual."
Moderates Booed
Along with the adulation there's been a desire from supporters to protect him and his vision from opponents both within and outside Labour. There were boos for anyone who veered away from the party line. Moderates spoke of feeling threatened and shunned by people they had known and worked with for years.
The BBC provided bodyguards to protect its political editor, Laura Kuenssberg, and key figures including London Mayor Sadiq Khan, were heckled for not being sufficiently deferential in the past.
Some lawmakers tweeted that they couldn't actually get into the conference hall as Corbyn's increased hold of the rank-and-file took effect. He's given a greater say to the members who have joined in record numbers since he became leader in 2015.
That might ensure his successor continues to be a socialist in his image.
'Politics Differently'
"It's not always been easy. There's quite a few who prefer politics the old way," Corbyn will say. "But let me say it again, we will do politics differently. And the vital word there is 'we.'"
The enthusiasm Corbyn has sparked was clear as hundreds answered his call to get involved and attended events at a parallel conference run by Momentum, the socialist organizing group that helped him win control of Labour.
While for some, his politics are the key, for others it's Corbyn's folksy man-next-door persona that has won them around.
"Even though he was really busy, he made time to talk to us," said Billy Paterson, 23, from Wrexham, North Wales, who was serving coffee at the conference center and took a selfie with Corbyn. "He was really down to earth, he was a really nice bloke."
— With assistance by Kitty Donaldson, Jess Shankleman, and Alex Morales
Before it's here, it's on the Bloomberg Terminal.
LEARN MORE