Bitcoin and Copper in Lockstep Show Chinese Speculators' Power
By , , and
Cryptocurrency's correlation with metals seen since June

Some in copper industry see potential for price falls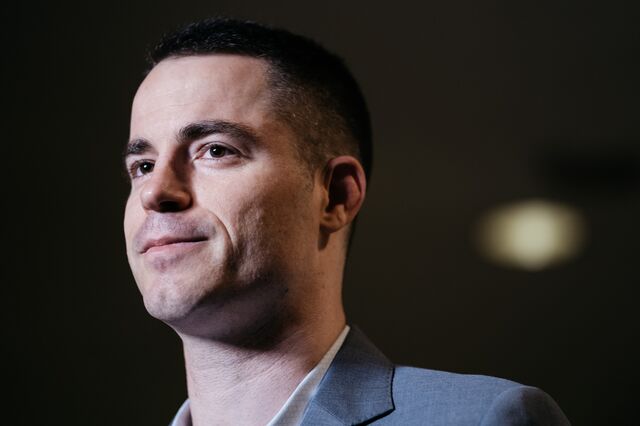 Copper and bitcoin don't obviously have much in common. 
One is an industrial metal, mined by giant trucks and used in everything from computer chips to plumbing tubes, the other a cryptocurrency that's 'mined' only in a virtual sense. 
Yet the two have been moving in near unison for the past two months. Bitcoin and copper both rallied strongly from mid-July to early September. Then when bitcoin tumbled as Chinese regulators moved to clamp down on the trading of cryptocurrencies, the copper rally also went into reverse.
On a four-week basis, the correlation between the metal and the cryptocurrency is currently more than 0.95, showing prices have moved almost completely in lockstep. The reading matches that of gold and silver and exceeds Apple and the S&P 500.
To explain the near perfect relationship between the two investments, analysts are looking at China. The country accounts for about half of global demand in industrial metals and traders and investors there have become increasingly dominant in the market. The same trend's now visible in cryptocurrencies.
"A lot of metal speculation comes from China, and most of the recent interest in trading cryptocurrencies has been coming from China," said Matthew Turner, metals analyst at Macquarie Group Ltd. in London. "The factors that drive Chinese speculation could have an impact on both metals and cryptocurrencies."

The similar price action in the two markets highlights how important Chinese sentiment has become for both.
Charlie Morris, chief investment officer at Newscape Capital Advisors Ltd. said there had been "huge amounts of interest from China" in bitcoin.
"There's been a huge amount of punting on bitcoin," he said. "China is obviously quite strong in this space."
To read a story on Hong Kong and cryptocurrencies, click here.
Meanwhile, Chinese traders are increasingly "setting the price" for industrial metals, Macquarie argued in a note earlier this month. The Australian bank said a surge in bullish bets on copper at New York's Comex exchange, which hit a record high in early September, had likely been driven by Chinese investors.
"Anecdotally, we hear that Comex became increasingly popular with Chinese funds," Macquarie said.
Indeed, some in the copper industry believe that the price has rallied too far -- even after a 6.6 percent retrenchment from three-year high of $6,970 a metric ton on Sept. 5. Ivan Arriagada, chief executive of copper miner Antofagasta Plc, on Monday suggested he expected further falls in the short term.
"Our perspective over the medium to long term is favorable, but over the short term we will have volatility due to market conditions that have to do with the Chinese economy," Arriagada said in Santiago.
It's not just copper that has been rising and falling in tune with bitcoin. Barry Ehrlich, analyst at Citigroup Inc. in Moscow, pointed out in a note that nickel, palladium and the share price of MMC Norilsk Nickel PJSC all displayed a strong correlation with the cryptocurrency over the past few months.
"We conclude that key metals/Norilsk are being driven by similar China liquidity and policy developments that are affecting Bitcoin," he said.
But while the correlation between metals and bitcoin has emerged in recent months, it is unclear whether it will be long-lived.
"Bitcoin is primarily about getting money out of China, whereas there are a whole host of reasons that you might invest in copper," said Guy Wolf, head of market analytics at Marex Spectron Group. 
"You've got a completely different type of investor driving it, and in the case of copper, sometimes things like a shift in the currency or liquidity in China really matter, and sometimes they don't," Wolf said.
— With assistance by Laura Millan Lombrana
Before it's here, it's on the Bloomberg Terminal.
LEARN MORE