U.K. Labour Pledges 'Battle' Over Workers' Rights After Brexit
By
Shadow Chancellor McDonnell would take over PFI contracts

Says Labour to call for protection of EU citizens' rights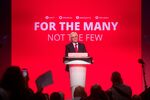 U.K. Shadow Chancellor of the Exchequer John McDonnell said Conservative ministers face "the political battle of their lives" if they try to weaken workers' rights as a result of Britain's departure from the European Union.
McDonnell also pledged to protect the rights of EU citizens in the U.K., one of the main bones of contention between Prime Minister Theresa May's negotiators and their counterparts in Brussels, saying their treatment by the Tory government has been "brutal."

"I warn the Tories," McDonnell told Labour's annual conference in Brighton Monday, after taking the stage to the sound of Bob Marley's "Get Up, Stand Up," saying that "if they try to water down or undermine protections we have secured on employment, consumer or environmental rights, we will give them the political battle of their lives."
Keeping the rights of workers secured through EU membership has been a key demand of Labour's deliberately fluid Brexit policy. The party's leader, Jeremy Corbyn, a lifelong euro-skeptic persuaded to support "Remain" in last year's referendum, has so far avoided setting out a clear strategy for how Labour would negotiate the U.K.'s withdrawal from the bloc, even as he positions himself as a prime minister in waiting.
Read More: Corbyn Pulls Off Feat of Not Discussing Brexit at Conference
"We demand that the rights of EU citizens in this country are fully protected, just as we wish to secure the rights of U.K. citizens in other EU countries," McDonnell said.
McDonnell also pledged to end offshore ownership of private finance initiative companies, and bring existing contracts back under government control, a move greeted with cheers from the party faithful. PFI programs, usually used for public infrastructure projects, including hospitals and schools, have been criticized for their lack of transparency and high costs to the taxpayer.
Set up by Tory Prime Minster John Major, PFI funding was expanded and used extensively under Labour leaders Tony Blair and Gordon Brown.
"We have already pledged that there will be no new PFI deals signed by us," McDonnell said. "But we will go further. I can tell you today, it's what you've been calling for. We'll bring existing PFI contracts back in-house." He gave no further details.
Before it's here, it's on the Bloomberg Terminal.
LEARN MORE