Merkel's Hollow Victory Complicates May's Life and Brexit Talks
By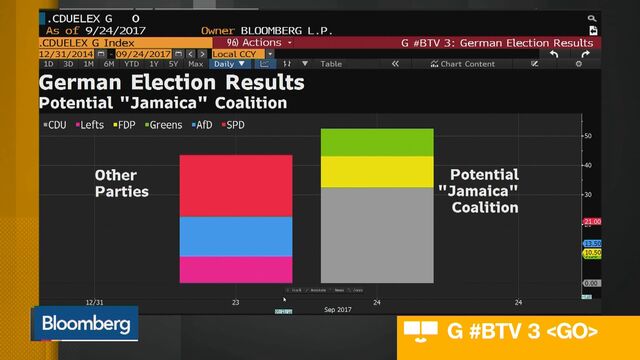 Angela Merkel's pyrrhic victory is bad news for U.K. Prime Minister Theresa May and her hope of getting the German leader to wade into Brexit talks and help unlock negotiations.
For starters, the chancellor will be preoccupied with trying to stitch together a complicated three-way coalition. Put simply, if Brexit wasn't a top priority before the election it is even less of one now. May's big speech in Florence on Friday was in some measure an outreach to the 27 EU government heads -- especially the more influential ones.
Brexit Barometer Dips Slightly as Merkel Faces Coalition Talks
"The outcome of the German elections will not make the Brexit negotiation any easier for the U.K., as Merkel and the other EU27 leaders must show – more than ever – that it is better to be in the club than being outside," said Fabian Zuleeg, chief executive of the Brussels-based European Policy Centre.
Merkel's Christian Democratic Union had their worst showing since 1949, ceding ground to anti-immigration Alternative for Germany party. This new political reality ties her hands and makes it even less likely that she will intervene at all if the Brexit discussions go poorly.
"Brexit was not an issue in the campaign, and it will get even less important as Berlin will be busy shoring up Merkel's euro zone reform plans against the AfD, and with everyone busy focusing on migration," said Carsten Nickel, managing director at Teneo Intelligence. "If anything, AfD at almost 13 percent will serve as a reminder to not let the Brexiteers get away too easily."
— With assistance by Nikos Chrysoloras
Before it's here, it's on the Bloomberg Terminal.
LEARN MORE