Game Changer
London's Mayor Isn't Afraid of ISIS—or Brexit
Sadiq Khan, the first Muslim to lead a major Western city, is fighting to maintain the U.K. capital's cosmopolitan identity.
By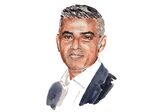 When Britain voted to leave the European Union in June 2016, Sadiq Khan, in only the second month of his tenure as mayor of London, was the first to reassure immigrants that they were still a vital part of the city they helped create. In the year since, he's been an outspoken champion for a multicultural, outward-looking U.K. "London has a unique selling point: We're the cultural capital of the U.K., we're the political capital, we're the financial capital, so if you come here, it's all in one place," he says. "Frankfurt, Paris, Rome, Dublin, they've each got some wonderful things in each of their cities, but they're not the complete package."
The son of Pakistani immigrants who grew up in a housing project in south London, Khan presents himself as the embodiment of a global city. Having traveled the path to the top via law school, human-rights advocacy, and the House of Commons, he now must bridge the growing divide between the wealth of the City's financial sector and the poverty of places such as Grenfell Tower, the site of the fire that killed about 80 people—mostly immigrants—in June.
This year alone, London has seen four terror attacks, three claimed by Islamic State, including the Sept. 15 attack on an Underground train, and one apparently motivated by anti-Muslim radicalism. Nevertheless, Khan has been outspoken about his own Muslim faith, drawing threats from Islamists who think he's an apostate and from racists who hate him for his religion and the color of his skin. These have necessitated round-the-clock police protection, but Khan is unruffled. Speaking of Islamic State, he says, "Their thesis is that Islam and the West are incompatible. But we know from our experience—not just in America and the U.K., but around the West—that that's not true. It's possible to be a Westerner and Muslim, as I am. The West doesn't hate us. I am the West."
Nick Spencer, research director at Theos, a British think tank, says of Khan, "There are politicians who, by articulating their particular view, change the weather a little bit. I have the sense he may be like that. I suspect that makes it more possible for others to follow in his footsteps."
Being the most prominent Muslim politician in the West has brought Khan into conflict with President Trump, particularly in January, when he announced his plan to ban citizens of certain mostly Muslim nations from traveling to the U.S. When asked about Trump's tweets regarding the latest terror attack, which criticized Scotland Yard for not being "proactive," Khan told a U.K. radio host, "I've simply been too busy this morning to look at my Twitter."
"The whole Donald Trump thing—I'm a reluctant participant in all this stuff," he says. Britain will always stand "shoulder to shoulder" with America, he adds, "but you've also got to be straight with them and tell them when they're wrong."
Before it's here, it's on the Bloomberg Terminal.
LEARN MORE