Forget the Fed Taper, Here's Why the Global Liquidity Party Is Set to Intensify
By
Buying by European, Japanese central banks seen offsetting Fed

Bank reserves as percentage of bond stock is bullish signal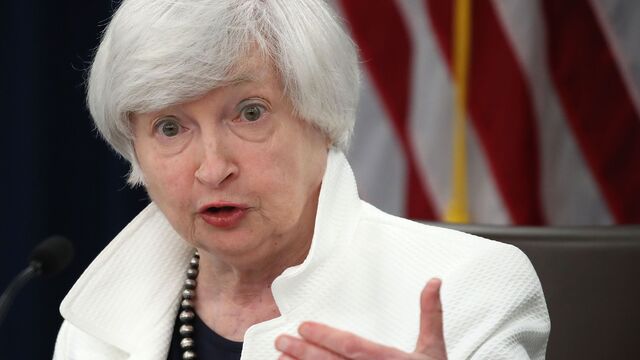 The Federal Reserve's plan to pare its $4.5 trillion balance sheet elicited barely a whimper in markets when it was announced last week, widely seen as a testament to the well-choreographed nature of the move. JPMorgan Chase & Co. has another read.
Research from Nikolaos Panigirtzoglou, a global market strategist at the bank, suggests the benign reaction is because there will be plenty of central bank cash floating around even as the Fed pulls back.
Central-bank balance sheets in the U.S., euro area, Japan and the U.K. combined will stay at abundant levels for the next three to four years, and global liquidity spurred by quantitative easing is actually poised to increase in 2018, according to Panigirtzoglou, author of the popular Flows & Liquidity weekly report. He's pushing back against those who predict a jump in government bond yields and market volatility as the Fed's taper reduces liquidity.
"At a global level, the stock effect of QE will likely continue to operate over the coming years at the same intensity as today despite the Fed's balance-sheet shrinkage," he wrote in a note.
Here are his bullish projections in more detail:
While the Fed will reduce its balance sheet to $3 trillion by 2021, the ECB is set to continue buying about 20 billion euros ($24 billion) a month in the second half of next year from about 40 billion euros earlier in the year, he estimates. The BOJ, meanwhile, is forecast to continue on its current pace with 60 trillion yen ($538 billion) per year.

Another measure of liquidity -- the ratio of lenders' deposits at the central bank to the tradeable stock of government bonds -- also paints a bullish picture. While QE boosted liquidity in the banking system, as shown by the increase in reserves, it increased the relative price of collateral for financial institutions by soaking up the supply of government bonds. 

Fed balance-sheet shrinkage would, thereby, reduce the scarcity of Treasuries relative to reserves. That all suggests the outlook for banking-sector liquidity will remain strong over the next four years, JPMorgan concludes.

JPMorgan Chase & Co. 

The global financial system, according to JPMorgan's liquidity model, is awash with a record $10 trillion of excess cash, as measured by the difference between M2 money supply minus an implied demand target, such as economic growth as well as equity- and bond-trading requirements.
Only a shock jump in the dollar or policy uncertainty -- not the Fed's oncoming taper -- would reduce the excess money supply around the world, according to JPMorgan.
In sum, the strategist concludes, the effect of the Fed's taper on bank liquidity and the outlook for global money supply are far more benign than even-ardent bulls project.
Before it's here, it's on the Bloomberg Terminal.
LEARN MORE