Five Things You Need to Know to Start Your Day
Get caught up on what's moving markets.
By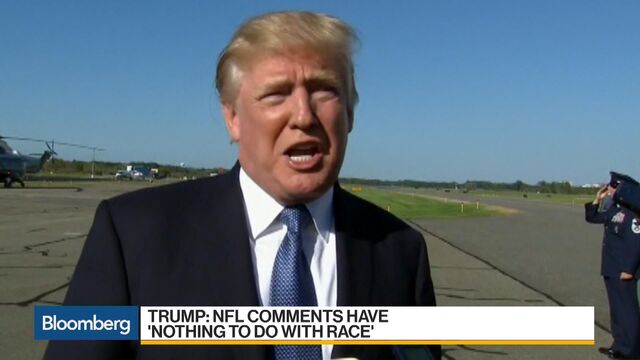 Want to receive this post in your inbox every morning? Sign up here
Busy week in Washington with tax and travel on the agenda, Merkel wins (and loses) in Germany, and markets remain calm. Here are some of the things people in markets are talking about today.
Tax plan
President Donald Trump and Republican leaders are expected to release a tax plan this week that would slash the corporate tax rate to 20 percent from 35 percent, and cut the top individual rate to 35 percent. Nevertheless, Trump, speaking to reporters on Sunday, said he hoped the corporate rate is "going to be 15 percent."
Travel and healthcare
GOP Senators were still making changes to their proposed health-care bill Sunday in a last-ditch attempt to win over holdouts on the plan to repeal Obamacare. The president does not seem to be very optimistic, telling reporters that he is focused on tax cuts. Trump's other signature policy – the travel ban – got an update over the weekend, with North Korea and Venezuela added to the list of countries blacklisted. As has become the norm with the president's travel restrictions, the latest moves will be met with numerous legal challenges.
Angela's clashes
Angela Merkel's Democratic Union-led bloc is meeting in Berlin today to assess the fallout from an election that they have seemingly both won and lost. With the SPD, the party that came second in the vote, saying they will not enter coalition talks with Merkel, the chancellor has the difficult task of trying to form a government with the business-friendly FDP and the Greens. This so-called "Jamaica coalition" could take months to put together, with another election the only likely outcome should talks fail. 
Markets remain quiet
The MSCI Asia Pacific Index retreated 0.5 percent, while Japan's Topix index added 0.5 percent. In Europe, equites started out continuing their recent zen-like trend. The Stoxx 600 Index was 0.1 percent higher at 5:50 a.m. Eastern Time as markets showed a muted reaction to the German election. S&P 500 futures slipped less than 0.1 percent and 10-year Treasury yields were at 2.236 percent.
Verbal intervention
A busy week for central-bank watchers kicks off at 9 a.m. when European Central Bank President Mario Draghi addresses lawmakers in Brussels. Fed Chair Janet Yellen speaks in Cleveland tomorrow, while Governor Mark Carney addresses a Bank of England conference Thursday to mark 20 years of independence, which will also be attended by Fed Vice Chair Stanley Fischer. There are 15 speeches from FOMC members scheduled for this week, so it will be a busy one for monetary-policy watchers. 
What we've been reading
This is what's caught our eye over the last 24 hours.
Before it's here, it's on the Bloomberg Terminal.
LEARN MORE