Why FANG Stocks Are Sinking Today
By and
Value stocks on track for three weeks of gains over growth

Apple, Facebook concerns weigh on tech index after leading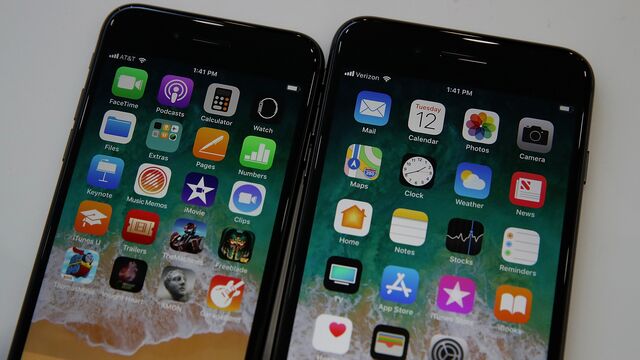 It looks like a garden-variety technology selloff, and it is. But Monday's mini-seizure in stocks has fingerprints of another force that has been building for weeks, a sentiment shift that could foretell the market's tone for the rest of the year.
As losses swelled in the Fang block of technology megacaps, Monday became the 11th day in 12 that value stocks outpaced their growth counterparts, the longest stretch of outperformance since 2006. Using a lens favored by quants, companies ranked highest by cheapness were one of only three investment factors to trade higher on the day.
Read more about the reasons behind the tech decline.
More than any other trend, rotation has been the buzzword in 2017: when one sector falls, another compensates, and a broader selloff is avoided. Monday's gain in lower-priced industries doesn't look like much next to the $50 billion erased from Facebook Inc., Amazon.com, Apple, Netflix and Google parent Alphabet Inc., but it extends a split that some on Wall Street think heralds the end of dominance of companies with the highest expectations for profit growth.

"Value continues to gain traction," Tom Lee, head of research at Fundstrat Global Advisors LLC, wrote in a note to clients. "When value turns, it will ultimately be a monster inflection."
Large-Cap Tech Stocks Sink Amid 'Risk Off,' Apple Fears: Traders
There's been halting evidence all summer that investors are trying to kick their tech-stock addiction. With just four tech companies accounting for 22 percent of the S&P 500's year-to-date gain, technology strength has ebbed as of late.
From a broader perspective, tech stocks may be a victim of weakness in big companies in general. After outperforming small-caps for most of the year, the Russell 1000 Index has trailed the small-cap dominated Russell 2000 since mid-August.
To be sure, Monday's action bears similarities to half a dozen other rotations this year, none of which inaugurated a longer-lasting shift in investor appetites. A simple explanation for the selloff is that North Korea's latest belligerence led bulls to raise cash in stocks that are up more than 30 percent in 2017 amid end-of-month rebalancing.
But there also are company-specific reasons for investors to cash out. Apple's lukewarm iPhone 8 sales and rumored issues with its updated watch have sent its shares into a 5.5 percent tailspin since Wednesday. 
Facebook slumped Monday by the most since November after founder Mark Zuckerberg shelved plans to create a special share class that would've secured his control of the company. The social network's also increasingly under fire in Washington for allowing Russian operatives to set up fake accounts in attempts to manipulate last year's election.
Netflix, the group's best performer this year, lost the most in three months Monday after its biggest critic set up its own streaming service. While the move poses little immediate threat to Netflix's subscriber base, it's the latest move by content providers to offer shows directly to customers via the internet.
"They all just look tired. They've been leadership companies for a long time and having some air coming out of them is appropriate," Dan Veru, chief investment officer of Palisade Capital Management at Fort Lee, New Jersey, said by phone. "I view this as incredibly positive long term for the market because basically money is flowing to places that haven't moved that much."
Next to their growth-oriented peers, value stocks have indeed gained some ground this month. They've beaten growth stocks in 11 of the past 12 trading sessions, a streak unseen since 2006. 

And in the case for a value-stock comeback, file this: at 25, the price to earnings ratio of companies in the Russell 1000 Growth Index is now near the highest relative to the value index since the start of this bull market.
Though recent gains in value shares don't necessarily mean a reversion is happening at this moment, JP Morgan chief equity strategist Dubravko Lakos-Bujas also believes the potential for a rebound is worth watching.
"Value remains very attractive with valuation spread again widening and approaching record levels," he wrote. "Positive inflation surprise, US dollar reversing its negative trend (down 10% YTD) and, most importantly, increasing odds of fiscal stimulus could trigger a Value squeeze."
Before it's here, it's on the Bloomberg Terminal.
LEARN MORE