Draghi Pledges Euro Area Will Get All the ECB Support It Needs
By
President says ECB more confident in inflation outlook

Draghi speaks at quarterly hearing at European Parliament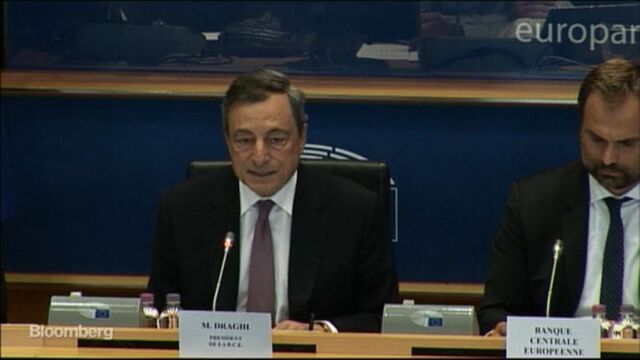 Mario Draghi said the European Central Bank will keep as much stimulus as the euro-area economy needs when policy makers decide to adjust their 2.3 trillion-euro ($2.7 trillion) bond-buying program later this year.
Speaking in Brussels on Monday, the ECB President pointed to uncertainties about the medium-term outlook for inflation as he presented an upbeat picture of economic recovery after 17 consecutive quarters of growth and unemployment at the lowest level in eight years. He stressed there was no pre-set size for the central bank's balance sheet, which depended on the instruments the central bank was using and the state of the economy.
"We have to be sensitive about the danger of halting a recovery through hasty monetary policy decision making," Draghi said at his quarterly hearing at the European Parliament's Economic and Monetary Affairs Committee. Any changes to the stimulus plan will maintain "the degree of monetary support that the euro-area economy still needs to complete its transition to a new balanced growth trajectory characterized by sustained conditions of price stability."

Draghi's balancing act comes as the ECB prepares for its Oct. 26 policy meeting, where it intends to take the bulk of the decisions on how to adjust its bond-buying program for 2018. The deliberations over whether to slow asset purchases amid the fastest economic growth in seven years are colored by the fact that inflation continues to trail the central bank's goal.
While the Governing Council was becoming more confident about inflation, recent volatility in the euro exchange rate was a source of uncertainty and required monitoring, Draghi said. At the same time, the appreciation of the currency reflected improved confidence in the euro-area economy and its political situation, while the main risks for the recovery were geopolitical.
More Confident
"Economic expansion is now firm and broad-based across euro area countries and sectors," Draghi said in his opening statement. "We are becoming more confident that inflation will eventually head to levels in line with our inflation aim, but we also know that a very substantial degree of monetary accommodation is still needed for the upward inflation path to materialize."
That's why policy makers had to be patient and persistent as measures of underlying inflation have picked up only moderately, he added.
His comments come after Executive Board member Yves Mersch said in Lisbon earlier on Monday that policy makers will continue to "prudently adjust our toolbox of monetary policy instruments" once there is "a sufficiently sustained adjustment in the path of inflation."
As the quantitative easing program is set to expire at the end of this year, the ECB must decide whether bond purchases -- currently scheduled to run at 60 billion euros a month -- should be slowed in 2018 and if so, for how long before stopping altogether. It's also debating how to adjust its forward guidance and whether to highlight key policy measures such as the reinvestment of maturing debt, which is expected to average about 15 billion euros a month next year.
Price Outlook
Draghi provided no clues about potential changes to the program. He said the Governing Council hasn't discussed adjusting its self-imposed limit of 33 percent for purchases of bonds from a single euro-area government.
The ECB aims for inflation of just under 2 percent without monetary support, yet its own projections don't see that being achieved until at least late 2019. That's partly because of the damping effect of the strengthening euro, which has risen more than 13 percent against the dollar this year.
Draghi said that inflation will follow a V-shaped path in the coming months due to an earlier impact of higher oil prices, a factor that could complicate communication of its policy changes.
"When we look at underlying inflation excluding food and energy it has ticked up a little in last few months but hasn't really shown a convincing sign of moving upwards," Draghi said. "The reason is because of subdued wages."
The next inflation data due to be published on Friday are forecast to show that annual consumer-price growth accelerated slightly to 1.6 percent in September, up from 1.5 percent, with the underlying rate likely holding at a tepid 1.2 percent.
"The uncertainty that looms ahead is so large that the Governing Council members thought that the more information they had before they enter the deliberation, the better it is," Draghi said.
— With assistance by Lucy Meakin, Alessandro Speciale, Jill Ward, Craig Stirling, Catherine Bosley, David Goodman, Kevin Costelloe, and Alexander Weber
Before it's here, it's on the Bloomberg Terminal.
LEARN MORE